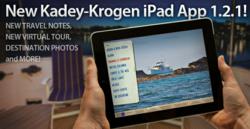 Stuart, FL (PRWEB) May 29, 2013
Kadey-Krogen Yachts is pleased to announce the latest release of the company's industry-leading iPad application. The free app showcases the Krogen trawler yacht lifestyle with photos and stories submitted by owners around the world, specifications and details on all current production Kadey-Krogen vessels, a brief history of Kadey-Krogen and much more.
Since the initial release one year ago, the app has thousands of downloads from Kadey-Krogen enthusiasts. "We're not just selling a boat. We're promoting a lifestyle and helping someone's dream come true. The app captures these aims and gives the potential owner a taste of the lifestyle through virtual tours, stories from owners and a myriad of photos both technical and scenic," says Larry Polster, vice president of sales and marketing for Kadey-Krogen. "Not only does it showcase the lifestyle," Polster continues, "it also is a great educational tool. The app is an abbreviated version of our robust website, and once downloaded allows someone to learn about us without an internet connection."
Kadey-Krogen Yachts currently builds full displacement trawler yachts in lengths of 39', 44', 48', 52', 55', 58', 64' and 77'. The company is headquartered in Stuart, Florida, and has sales offices in Annapolis and Seattle. The company is celebrating 36 years in business.