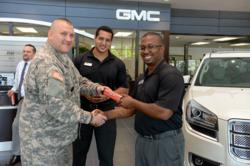 DFW GMC Dealers want people to salute a veteran or active duty military hero or first responder (fire, police, medical) by going to http://woobox.com/gjjg28 and entering a "salute."
Dallas, Texas (PRWEB) May 24, 2013
WHO:
Carry The Load and DFW GMC Dealers
WHAT:
The 2000-mile, 27-day Carry The Load National Relay left West Point, NY, on April 30 and will finish in Dallas Memorial Day weekend. The journey honors America's fallen heroes and their families. Follow the relay on Facebook at https://www.facebook.com/CarryTheLoad.
20-hour Memorial Day event honoring service members and their families for the sacrifices they make.
Individuals and families can join in the Memorial March at any time during the 20 hours and walk even for just a few minutes. Individuals and families do not have to carry a weighted pack.
It's a life-changing journey for participants as they walk or run as long as they can in the 20-hour period… Like the service members they honor, they carry more than they have to, longer than they think they can.
Everyone is invited to participate no matter their fitness level or ability. Come out and enjoy the walk as long as possible. Individuals and families can participate on Sunday and then come back on Monday for the end of the walk and the closing ceremonies.
DFW GMC DEALERS INVOLVELEMNT:
In honor of Carry The Load, DFW GMC Dealers are calling all military – active duty and veterans – and friends and family! DFW GMC Dealers want people to salute a veteran or active duty military hero or first responder (fire, police, medical) by going to the DFW GMC Facebook page (or on mobile at http://woobox.com/gjjg28) and entering a "salute." If you have a story and photo to share about the person you are saluting, DFW GMC Dealers will donate an additional $5 if it is posted it on their Facebook wall. DFW GMC Dealers – a 2013 sponsor of Carry The Load – will donate $5 for every salute and story up to $10,000 from today through May 27, 2013.
DFW GMC Dealers will have a VIP tent set up in Reverchon Park for people who have raised $5,000 or more for Carry The Load. The GMC tailgate trailer will be nearby – free Hoffmann Hotdogs (provided by– Hofmann Hots in Trinity Groves) and drinks will be available.
In the general area GMC will have a tent with the new Sierra, Acadia Denali and the Terrain Denali and will offer chair massages to the participants free of charge.
At 3:30 on Sunday, May 26 on the Main Stage DFW GMC Dealers will present a check to Carry The Load. In May, DFW GMC Dealers have collectively donated over $117,000 in cash and media support to Carry The Load.
OTHER ACTIVITIES:

Bands on the main stage Sunday and Monday
Mess Hall meals from Celebrity Chef, Blythe Beck
Concessions from Ruthie's Rolling Café, Enticed, and Rusted Truck Barbecue
Tribute Wall at the Hillwood Investments tent
JCPenney Home tent - relax and write your tribute
Photo booth at Start/Finish with Gold's Gym
Catch & Release Fishing with Heroes on the Water and Texas Jr. Anglers
Route station activities: Amegy Bank, Prestonwood, and E2M/Compatriot Capital/KDC/2M
Route station refreshments from PepsiCo / Frito-Lay
Zipline, Obstacle Course, Inflatable Slide, Playground and more activities in the Kids Area
"Who are you carrying?" stories on the Katy Trail
WHEN:
Sunday, May 26th, 2013
3:30 pm – Opening Ceremonies
4:00 pm – Walk begins
Monday May 27th, 2013
9:00 am – Family Fun area opens
12:13 pm – Walk ends
12:20pm – Closing Ceremonies & Awards
WHERE:
Reverchon Park/Katy Trail
3505 Maple Ave
Dallas, TX 75219
COST:
Participant/Fundraiser: No Fees
Registration is free. Participants raising $200 or more will receive a t-shirt, parking pass & 3 meal tickets for the day of the event.
MORE INFORMATION:
For more information on DFW GMC visit http://www.facebook.com/GMCDFW. To donate, register or for more information on Carry The Load, go to http://carrytheload.kintera.org/faf/home/default.asp?ievent=1047584&lis=1&kntae1047584=47F9C79D19D9402DA30D2937C8574A9B. More information on the National Relay is available at http://carrytheload.org/.
CONTACT:
Jo Trizila, TrizCom Inc., jo(at)TrizCom(dot)com, Office: 972-247-1369, Cell: 214-232-0078
###
DFW GMC Dealerships
Classic of Arlington, 1400 E Interstate 20, Arlington, TX, 76018, 817-375-3000
Ray Riding Motors, Inc., 1111 East Hwy 243, Canton, TX, 75103, 903-567-4131
Classic of Carrollton, 2700 N I 35 East, Carrollton, TX, 75007-4402, 972-242-4000
Freedom Chevrolet Buick GMC, 8008 Marvin D. Love Freeway, Dallas, TX, 75237, 972-298-4911
Gateway Buick GMC, 11438 LBJ Freeway, Dallas, TX, 75238, 214-342-7052
Sewell Village Buick-GMC, 7474 Lemmon Ave, Dallas, TX, 75209, 214-902-2222
James Wood Decatur Buick-GMC, 2111 S Hwy 287, Decatur, TX, 76234, 940-627-2177
James Wood Denton Buick GMC, 3906 I 35E S, Denton, TX, 76210, 972-434-1515
Hiley BG of Fort Worth, 3535 W Loop 820 S, Fort Worth, TX, 76116-6648, 817-632-8800
Luttrull-McNatt Buick GMC, 1608 W Hwy 82, Gainesville, TX, 76240, 940-665-5591
Classic of Granbury Buick-GMC , 1909 East Hwy. 377, Granbury, TX, 76049, 817-279-9775
Freeman Buick-GMC, 501 W. State Highway 114 , Grapevine, TX, 76051, 817 410-5000
Southwest Buick GMC of East Texas, LLC, 4001 Interstate 30, Greenville, TX, 75402, 903-455-5100
McKinney Buick GMC, 3950 S. Central Expressway, McKinney, TX, 75069, 469-952-5200
Ewing Buick-GMC, 4464 Plano Pkwy, Plano, TX, 75093, 972-964-7400
Heritage Buick-GMC, 930 E I-30, Rockwall, TX, 75087, 972-771-7272
Bruner Motors Inc., 1515 West S Loop US 377, Stephenville, TX, 76401, 254-968-2135
Carlisle Buick-GMC, 1701 W US Highway 287 Bypass, Waxahachie, TX, 75167, 972 938-1991
Jerry's Buick-GMC, 3118 Fort Worth Hwy., Weatherford, TX, 76087, 817-596-5581