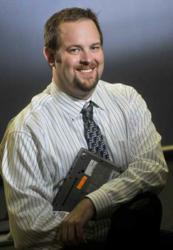 Many security professionals believe their system is completely secure simply because they have a defense strategy in place
Saint Louis, MO (PRWEB) May 24, 2013
As cyber security breaches continue to plague businesses worldwide, many believe that after the breach has been remediated, their systems are protected against future attacks. According to Dave Chronister, professional hacker and co-founder of Parameter Security, if a system has been compromised once, it could be easily attacked again. In an effort to make St. Louis' IT security community stronger, Chronister is helping to bring the largest hacking and offensive cyber security conference to the Gateway City – TakeDownCon.
Chronister will be speaking on both maintaining access and capturing data. When a hacker breaks into a system, they will create a backdoor within the network, allowing them to return uncontested. Attacking only once, this gives the hacker indefinite access to the victim's network. In an effort to educate attendees on this issue, Chronister will discuss various methods and tools used by malicious attackers.
"A majority of IT security conferences revolve solely around solutions," said Dave Chronister, co-founder of Parameter Security. "TakeDownCon is a technical-based conference, giving attendees the opportunity to better understand the minds and motives of hackers so they can effectively defend against future attacks."
The conference, which will run from June 3rd through June 4th, will be sponsored by St. Louis-based ethical hacking firm, Parameter Security. In addition to witnessing real-world cyber attacks, TakeDownCon will feature 10 speakers with keynotes Charlie Miller from Twitter and Adrian Crenshaw of Irongeek.com.
"Many security professionals believe their system is completely secure simply because they have a defense strategy in place," said Chronister. "Through education and awareness, we will make them not only more aware of the potential vulnerabilities within their system, but ways to strengthen their defense."
TakeDownCon-St. Louis will be held at Ameristar Casino in St. Charles, Missouri. For more information on Dave Chronister, the conference or to register in advance, please visit http://www.takedowncon.com/stlouis.
About TakeDownCon St. Louis
This highly technical IT security conference is a no-frills and topic focused conference that is targeted toward IT and security professionals of all levels. The topical theme of this unique event is broken up into two days and exposes some of the most talked-about security issues such as Web Application Security, SCADA and Critical Infrastructures, Cloud Security, Mobile Hacking and more. TakeDownCon St. Louis is organized by the International Council of E-Commerce Consultants (EC-Council), which is a member-based organization that certifies individuals in various e-business and security skills. EC Council is the owner and developer of the world-famous E-Council Certified Ethical Hacker, Computer Hacking Forensics Investigator, Certified Security Analyst, License Penetration Tester programs and various others offered in over 60 countries around the globe. For more information about EC-Council or TakeDownCon St. Louis, please visit http://www.eccouncil.org or http://www.takedowncon.com/stlouis.
About Parameter Security
Hosting and sponsoring TakeDownCon St. Louis is St. Louis-based, ethical hacking firm Parameter Security™ and its training counterpart Hacker University™. Parameter Security is comprised of Certified Ethical Hackers who emulate the minds and behaviors of malicious hackers to test the security of your systems and employees. Parameter Security offers IT compliance audits, penetration testing, vulnerability assessments, social engineering, wireless security audits, secure code reviews, computer forensics and much more. For more information about Parameter Security and/or Hacker University visit http://www.parametersecurity.com.