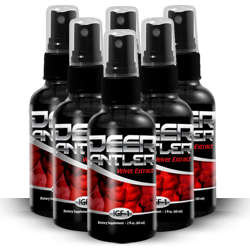 having our product available at ...GNC, will allow more people to reap the benefits of our product.
Mesa, AZ (PRWEB) May 27, 2013
GNC has partnered with Deer Antler Spray, making the muscle building and recovery supplement available through their website and at store locations. Deer Antler Spray has become an increasingly popular supplement in the last few years, and was a "win win" for both parties involved. Ryan, marketing associate, commented on the partnership stating, "We're confident in our product and it's growth in the supplement community, and partnering with GNC was an easy decision for us. More importantly, having our product available at such a respected and popular health and nutrition organization like GNC, will allow more people to reap the benefits of our product."
According to an article published through National Geographic News back on January 30, 2013 "Made from male deer antlers during the stage when the antlers are covered in soft fuzz, the unproven performance enhancer is often used by athletes who believe it helps heal cartilage and tendon injuries more quickly and boosts strength and endurance." It is through these beliefs that athletes throughout the world are using Deer Antler Velvet Extract. To read the full article from National Geographic News please click here.
For more information visit http://deerantlerspray.com/.