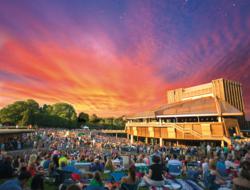 Vienna, VA (PRWEB) May 23, 2013
Joan Baez
Indigo Girls
Wednesday, June 12, 2013 at 8 pm
$28-$42
Folk powerhouses Joan Baez and Indigo Girls share the Filene Center stage in an evening of heartfelt tunes and earnest lyrics. The performance kicks off with acclaimed singer/songwriter and social activist Joan Baez, returning to Wolf Trap for the first time in more than two decades. Baez's musical journey spans over 50 years and is highlighted by her passion for human rights. She has advocated and performed in support of a variety of causes, including the Civil Rights Movement, LGBT rights, and environmental issues. Baez is the recipient of the 2007 Grammy Lifetime Achievement Award.
The Grammy-winning Indigo Girls are known for their intelligent songwriting, commanding harmonies, and effortless live performances. The folk-rock duo, composed of Amy Ray and Emily Saliers, has released more than 10 platinum records since the late '80s. Their latest album Beauty Queen Sister was released in 2011 under their own independent label, IG Recordings Company.
Video: Indigo Girls – Share the Moon
The Go-Go's
Special Guest: The Psychedelic Furs
Thursday, June 13, 2013 at 8 pm
$25-$42
The Go-Go's, one of the first commercially successful female groups of all time, brings their unique mix of new wave pop and punk rock back to Wolf Trap. Since they emerged on the music scene in 1978, The Go-Go's have garnered a loyal international fan base with chart-topping singles like "We Got The Beat," "Vacation," and "Our Lips are Sealed." They made history for being the first all-female band to write their own songs and play their own instruments in performances. In 2011, The Go-Go's re-released their breakthrough debut album under the title Beauty & The Beat: 30th Anniversary Deluxe Edition. That same year, the band also received a star on the Hollywood Walk of Fame.
The post-punk/new wave sextet The Psychedelic Furs performs as special guest for the evening. The Psychedelic Furs burst from England's post-punk scene in the late '70s, and have since toured extensively across the United Kingdom and the United States. The band became internationally famous for the title song in the John Hughes's Pretty in Pink (1986). Other recognizable hits include "Heartbreak Beat" and "The Ghost In You."
Video: The Go-Go's – Our Lips are Sealed
Celtic Woman
Friday, June 14, 2013 at 8 pm
$25-$55
The all-female Irish group Celtic Woman showcases their fresh arrangements of Irish traditional music and modern pop standards at Wolf Trap. Named Billboard's No. 1 World Music Artist in 2013, Celtic Woman continues to draw international audiences with their powerful voices and angelic harmonies. The foursome's most recent compilation, Believe (2011), reached No.1 on Billboard's Top World Albums. Celtic Woman became a global sensation in 2004 following the PBS airing of one of their sold-out shows in Dublin. A year later, their self-titled debut album peaked at No. 1 on Billboard's World Music chart and remained there for 81 weeks.
Video: Celtic Woman – Orinoco Flow
Bill Cosby
Saturday, June 15, 2013 at 8 pm
$25-$42
Bill Cosby, one of the world's most influential entertainers, returns to Wolf Trap for a joyous night of stand-up comedy routines. The Philadelphia-born actor, comedian, producer, and educator has been delighting audiences with his clean, family-friendly humor for over 50 years. His innate talent for comedy quickly led to acting roles in television shows, including I Spy and The Cosby Show, making him the first African-American to costar in a dramatic series. In addition to authoring 12 books, Cosby has appeared in more than 20 comedy albums, 10 musical albums, and numerous films. He is the recipient of nine Grammy Awards, nine Emmys, the Presidential Medal of Freedom, and a Lifetime Achievement Award from the Kennedy Center Honors.
Video: Bill Cosby – Dentist
Wolf Trap's 24th Annual
Louisiana Swamp Romp™
Marcia Ball
Rosie Ledet & The Zydeco Playboys
Steve Riley & The Mamou Playboys
Sunday, June 16, 2013 at 2 pm
$25 General Admission
The spirit of New Orleans takes over the Filene Center for Wolf Trap's 24th Annual Louisiana Swamp Romp™, celebrating the vibrant music and culture of "The Bayou State." This year's program features some of Louisiana's finest bands, including singer/songwriter Marcia Ball with her unique piano style that blends Zydeco, swamp and Louisiana blues, and boogie woogie; the saucy, soulful melodies of Rosie Ledet & The Zydeco Playboys; and Steve Riley & The Mamou Playboys, combining French Creole music with swamp pop infusions. Attendees are invited to enjoy mouth-watering Cajun fare by sampling delectable Louisiana dishes, such as Muffuletta Sandwiches, Chicken Gumbo with White Rice, Cajun Crawfish Boil, and Pralines.
Video: Wolf Trap's 22nd Louisiana Swamp Romp™
Tickets can be purchased by calling 1 (877) WOLFTRAP or online at http://www.wolftrap.org. For more information, call Wolf Trap at (703) 255-1868.
High-resolution images of the artists listed are available on Wolf Trap's website: http://www.wolftrap.org/Media_and_Newsroom/Photos_for_Publication.aspx.
Wolf Trap is Metro accessible!
Our environmentally friendly Wolf Trap Express Bus travels from the West Falls Church Metro stop every 20 minutes starting two hours prior to show time. For details, please visit http://www.wolftrap.org/Plan_Your_Visit/Access_by_Metro.aspx.
###