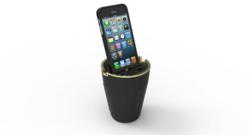 "Our goal is to help save lives by keeping the phone out of peoples hands while driving," says Mr. Carreon.
(PRWEB) May 29, 2013
This week, Insight Product Development launched a Kickstarter campaign for their new and innovative iPhone Docking Station and Car Charger. In an effort to accommodate the needs of busy professionals on the go, without running the risk of breaking "hands free" laws many states employ, the DockNstore was born.
"Millions of hours are spent commuting back and forth from work. We've developed a unit that allows you to easily dock your phone, talk, and power your phone, all in one unit with safety as the priority," says Dave Carreon of Insight Product Development. "An important goal is to help save lives by keeping the phone out of our hands while driving. This is accomplished with the DockNStore."
Trying to use docking stations for the iPhone in the car is usually very frustrating: docking and un-docking is difficult, many aren't designed to work with cases, they don't store the unwanted cables, they are made of cheap plastic and many reside unsafely on the windshield.
That's why Insight Product Development designed the DockNstore: simple to use and quick docking and un-docking. They have designed a unique acoustic chamber to pick up voice and improve the sound. They have also included 3 stylish colored bumpers to help the DockNstore fit snug into your cup holder. Not only that, but it stores messy cables and holds your phone strategically in a diagonal position so it's viewable while sitting. That's not all – it's elegantly designed and have included a custom color case and a car USB charger with every purchase!
Kickstarter will help launch the product and units can be obtain by going through them from now until June 6th, 2013 and will include various incentives for these ever important initial backers of Insight Product Development and DockNstore.
Insight Product Development has prior experience developing mobile products for companies like IBM, Panasonic, and Cisco. Family owned and operated, Insight Product Development believes in utilizing proven technologies, and integrating them into innovative devices. Insight Product Development brings to the table a team spanning across many generational lines, allowing for an infusion of information and experiences – delivering quality, practical, and insightful solutions to their customers. For more information on Insight Product Development, please visit http://www.insightproductdevelopment.com