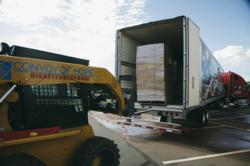 Springfield, Missouri (PRWEB) May 23, 2013
International humanitarian relief organization Convoy of Hope is providing of food, water and cleaning supplies at no cost for residents of the community who were affected by the tornado.
Point of Distribution:
Where: Crossroads Church
8900 S. Shields Blvd.
Oklahoma City, OK 73149
When: Daily from 10:00 a.m. to 7:00 p.m.
About Convoy of Hope
Convoy of Hope, founded in 1994, has a long history as a first responder in times of natural disasters and has been a Four Star Charity as recognized by Charity Navigator for nine consecutive years. Convoy of Hope, a faith-based organization, has a driving passion to feed the world through children's feeding initiatives, community outreaches, disaster response and partner resourcing. Learn more at Convoy of Hope.
Convoy of Hope:
Jeff Roman, 417-942-7570
Public Relations Desk
jroman(at)convoyofhope(dot)org
or
Jeff Nene, 417-860-2196
National Spokesperson
jnene(at)convoyofhope(dot)org