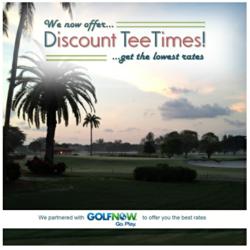 TheGrint is now offering discount tee times through the GolfNow.com network.
Miami, FL (PRWEB) May 29, 2013
TheGrint Golf Handicap Tracker recently launched its "Tee Times" section where discounted tee times are now being offered to all members. With this move, TheGrint continues to expand its offering and becomes an even more complete tool for golfers.
The GolfNow.com network of golf courses is the largest in the industry with nearly 4,000 golf courses. TheGrint will now provide access to the GolfNow network so their members can purchase tee times for up to 70% discount.
TheGrint members will now have access to book tee times, play and track golf scores, review performance and share with friends outside the golf course. From booking to re-living the golf round, TheGrint will now offer an all around tool to its members.
This partnership will expand GolfNow's reach, while providing TheGrint members with more tools to live the full golf experience.
About TheGrint Group
Developers of TheGrint.com and Grint Solutions, TheGrint Group are pioneers of technology and innovation in the golf industry. Headquartered in Miami, Fla., TheGrint Group was founded in 2011 to develop products that fill a niche and improve efficiency in the golf community. 
TheGrint.com is an energetic and growing interactive golf website and social network, scorecard picture service, USGA compliant handicap tracker and mobile application designed to enhance the way players experience and enjoy the game. 
Grint Solutions provides golf check-in kiosks across the globe to allow clubs and courses to sell tee times quickly and efficiently while improving customer satisfaction, reducing costs and increasing profitability.