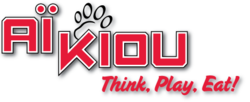 we believe that together, we can help make a difference
Terrebonne, Canada (PRWEB) May 25, 2013
In an effort to help with the Oklahoma disaster, AiKiou (pronounced [IQ]) has decided to team up with BlogPaws, Pet360 and Worlds Vets and will donate 10% of it's sales on helpfund.aikiou.com until May 28th. Since AiKiou was created to help pets live a better live, the company owners strongly believe that it is their responsibility to help in such terrible occasions and would like to take the time to thank their partners who decided to help the community.
The company owners think that even a small family business can make a difference and this is one of the ways to help. On May 28th, AiKiou will donate the amount accumulated here through it's online sales to that organization. They would like to thank people in advance for their generousity and remind them that they can also donate directly to this great cause without any purchase on Worlds Vets website here through May 28th 23:59.
AiKiou is not the only one taking part in this effort and it is worth mentionning that other companies like AAHA (American Animal Hospital Association) will be donating to this cause and will try to make a difference.
About AiKiou :
AiKiou has been founded in 2008 by Kathleen Desrosiers and has been dedicated since to helping and enhancing pets life and environment. Kathleen has devoted part of her life helping rescues and organisations to promote responsible ownership and as such, she invented the AiKiou dog feeder following the adoption of Sumo, a rescued Golden Retriever. Since then, the company has released many products that benefited pets around the world and a part of our responsability to give back to society. You can also learn more about these programs created to help shelters at http://www.aikiou.com/shelters.
About AiKiou partners :
BlogPaws is Social Media Company focused on teaching pet enthusiasts how to use social media effectively. They also work year round to connect our bloggers and micro-bloggers to the brands they buy every day. Their online community site is for pet bloggers, pet enthusiasts, pet people on Twitter and Facebook and brands eager to tap into a growing, vibrant, vocal community of serious writers, bloggers, tweeters.
World Vets Mission is to improve the health and well being of animals by providing veterinary aid and training in developing countries and by providing disaster relief worldwide.