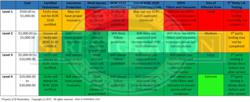 (The Mold Removal Cost Table) was designed specifically for property owners who are attempting to determine exactly which level of service is required for their mold removal project.
Mount Laurel, NJ (PRWEB) May 24, 2013
Wise men and women say, "Never believe what you read on the internet." However, when reports from reputable sources start linking hay fever, skin rashes, swollen eyes and tongues, and cancer cell growth to byproducts of mold growth, internet reports are hard to ignore. While mold exposure to human beings is hotly debated, and often controversial, one thing is for certain: mold is dangerous. Proper and safe mold remediation must be a precaution home and business owners are willing to take to protect the welfare of their families and employees respectively.
Mold remediation is typically not something a property owner budgets for on a regular basis. With that in mind, mold epidemics can strike anywhere at any time. Mold grows in any dark, damp, and humid environment. Basements, crawlspaces, attics, kitchens, and bathrooms are all extremely susceptible to toxic mold growth. Home and business owners alike want to know the bottom line on safe mold remediation before spending their bottom dollar.
SI Restoration, an industry leader in safe mold removal for over twenty years, has provided home and business owners with a handy Mold Removal Cost Table. This table was designed specifically for property owners who are attempting to determine exactly which level of service is required for their mold removal project. This detailed tool outlines the benefits and downfalls of each level of mold remediation service.
Some DIY sites may promote "Ten Easy Steps for Mold Removal." In reality, do-it-yourself mold removal is not easy, it is certainly not cheap, and SI Restoration says it is not the safest option either. DIY mold removal projects require equipment that could cost between $8,000 and $12,000 alone. Ensuring the equipment is being utilized properly while industry standard techniques and EPA guidelines are being met is another cumbersome issue altogether.
The point is, proper mold removal projects should be trusted to professionals in order to maintain health safety and to ensure the toxic fungus does not return. SI Restoration's Mold Removal Cost Table explains why hiring IICRC Certified Mold Contractors is crucial to all remediation projects. The Institute for Inspection Cleaning and Restoration Certification (IICRC) is a non-profit organization who creates and governs standards and guidelines for the restoration industry. The IICRC S520 Guidelines for Mold Removal were designed to protect mold contractors and home and business owners from the dangers of mold exposure.
Getting down to brass tacks, residential customers can expect to pay anywhere between $1,000 and $10,000 for professional mold removal. Commercial customers could see a price tag ranging between $5,000 and $30,000. While the spectrum of cost seems quite large, every mold removal project varies in cost depending on the severity of the exposure to the affected area.
Reputable and responsible mold remediation service providers offer free estimates and consultations to give home and business owners a fair perspective on the cost of their removal project. Also, keen contractors will work exclusively with independent industrial hygienists to ensure that mold testing does not favor the service provider over the customer.
While researchers may still be debating the effects of mold on humans, the Mold Removal Cost Table offers peace of mind to home and business owners seeking to rid their properties of mold once and for all. While conclusive evidence has yet to link mold exposure to cancer and other harmful diseases, wise men and women are still preaching another old adage in between lectures on believing what is on the internet. "It is better to be safe than sorry."