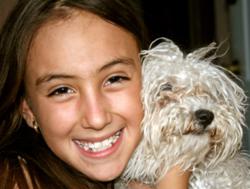 When many emergencies occur there is often very little warning or time to prepare for the possibility of being forced to evacuate your home.
Dallas, TX (PRWEB) May 24, 2013
With the recent tornado tragedies in Granbury, Texas and Moore, Oklahoma, Park Cities Pet Sitter felt that this would be an excellent time to discuss emergency preparedness for you and your pets.
When many weather emergencies occur, there is often very little warning or time to prepare for the possibility of being forced to evacuate your home. This is why pre-planning for such emergencies before they happen is so crucial. Spending a few moments now to devise a plan in case of a natural disaster can mean the difference between saving your pets' lives, and being able to locate your pets if you become separated from them in an emergency.
When the Granbury, TX tornado hit, it separated 200 animals from their owners. Many animals were taken to a shelter in Granbury to wait for their owners to reclaim them. This is not an uncommon occurrence in a natural disaster. Park Cities Pet Sitter recommends the following actions to increase the likelihood of reuniting with your pet in case of separation due to an unforeseen disaster:
1. Have your pet micro-chipped and make sure the micro-chip company has your updated contact information. Almost all animal shelters now micro-chip dogs and cats before they are adopted out. What many people do not realize is that many new adopters never register their pet and owner information with the micro-chip company after the animal goes home. A micro-chip is useless to identify an animal if the owner information has never been recorded. So, if your pet has a micro-chip, make sure you have contacted the micro-chip company and provided up-to-date contact information. If you are unsure as to whether your pet has a micro-chip or whether its associated contact information is up-to-date, go to the animal shelter or veterinarian's office where you believe the micro-chip was initially implanted so that they can assist you in getting the information necessary to update your pet's records.
2. Have a collar with ID tags on your pet at all times, and make sure the ID tags have up-to-date contact info. Many dog owners only put a collar on their dog when taking it for a walk, and many cat owners do not ever put collars on their cats. This is an extremely dangerous practice if you become separated from your dog or cat. Many dogs and cats look a lot alike, so even if they are found by an animal shelter or a Good Samaritan, it is often extremely difficult to identify each animal unless there is something else to help with the identification process. Being able to say that "my cat is a female grey tabby with a lavender collar that has a belt-like closure and a pink metal ID tag" is going to significantly increase the likelihood of a happy reunion compared to being an owner of a pet without any collar on whatsoever.
3. Send photos of your pets to out-of-town friends or relatives or have pet photos accessible via the "cloud." If your home is destroyed in a natural disaster, you will not have access to photos of your pets to assist in locating them if you become separated from them. This problem can be mitigated if other friends or relatives are given photos of your pets, or if you have photos uploaded in the Internet "cloud" somewhere, like via a Facebook or iCloud account.
4. As soon as you are aware of a possible impending emergency, immediately crate your pets. Pets are uncanny about sensing impending weather danger. As soon as you are aware of a potentially dangerous emergency, locate your pets, make sure they are wearing their collar, and put them in their crates. It is critical that you do this before they start feeling uneasy and attempt to hide. This way, you will know exactly where they are, and if you need to leave your home quickly, you will not waste precious seconds trying to locate them. In addition, make sure you have leashes for all of your pets, including cats.
5. Always take your pets with you when evacuating, unless doing so would endanger your health. Pets have a much higher chance of surviving a natural disaster if they are evacuated when their humans are. If you cannot evacuate your pet for whatever reason, contact your pet sitter, neighbor, or a relative that has access to your home and let them know of your pet's location. They may be able to assist with evacuating your pet(s), or they can check if your pet is safe after the immediate emergency has passed.
6. Prepare an Emergency Kit with at least several days' worth of your pet's food, water, and medications. Having an emergency kit pre-made and easily accessible will help you maintain calm when having to leave your home at a moment's notice. Make sure your pet sitter also knows where the emergency kit is kept.
7. Keep your pets up-to-date on their vaccinations, and have easy access to their veterinary records. If you and your pet are forced to evacuate your home due to an emergency, not all "human" destinations will allow your pet to stay with you. This is why it is so important to have your pets up-to-date on their shots and wearing their rabies tags—and to have proof of this with you in case your pet needs to stay at a shelter or boarding facility. A great way to keep these important records together and easily accessible is to keep a large, waterproof Ziploc bag with copies of their veterinarian's records with your pet's crate. That way, if you need to evacuate quickly, your vet records are easy to find and take with you.
It is impossible to know when a fire, tornado, flood or other emergency is going to take place. Taking the time to plan what to do if such an emergency did occur, however, will significantly increase the likelihood of survival for your beloved furry and feathered family members.
Park Cities Pet Sitter, Inc. has served the Dallas area 7 days a week, 365 days a year since 1992. Pet sitting, daily dog walks, pet taxis, overnight sitting, pet supply shopping, litter box cleaning and dog training are all part of the services PCPSI offers. Park Cities Pet Sitter is bonded and insured, and all sitters are employees--not independent contractors. A manager is on-call 24 hours a day to handle any emergencies. Additional information about Park Cities Pet Sitter can be found on their website at http://www.pcpsi.com.