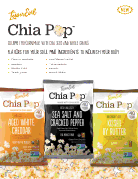 We are proud supporters of the Danbury community and our new facility will house several new jobs for local residents.
Danbury, CT (PRWEB) May 24, 2013
LesserEvil Health Brands Co., an innovative healthy foods company, is to celebrate the Grand Opening of its Danbury, CT factory with a ribbon-cutting ceremony on Wednesday, May 29, 2013. Mayor Mark D. Boughton, and several city council members are to perform the ribbon-cutting for the new factory. The ceremony runs from 12-2.
The new facility will add a total of 13 employees to the local health food company's staff, with more openings in the future. In addition, LesserEvil continues to bring new products to the shelves of local grocers including Stew Leonard's, Chamomille Natural Foods, Stop and Shop, and ShopRite. In recent months, LesserEvil launched a new popcorn line Chia Pop, which will be handed out at The Grand Opening on Wednesday. The company also plans to launch three new lines including Wow Pop, a popcorn for kids, Super 4, a superfoods snack, and Salad Bites, a line of salad toppings.
"We are proud supporters of the Danbury community and our new facility will house several new jobs for our residents. We also work with local charities and event coordinators by donating our time and products to their cause," says LesserEvil CEO Charles Coristine.
In addition to supporting the Danbury community, LesserEvil is also a platinum sponsor of the non-GMO project, and their Chia Pop line is non-GMO verified.
"We recognize the importance in the environment, sustainability in agriculture and to never compromise the integrity of the food we eat. We strongly defend the consumer's right to know," says LesserEvil Brand Manager Kristen Cardilli.
It's not just the citizens of Danbury who benefit from LesserEvil's product lines. Organic popcorn waste generated from the plant is donated to local farms to provide food for their pigs.
About LesserEvil Healthy Brands
LesserEvil Healthy Brands is a snack food company founded in 2004 with the mission to create natural, healthier snack food than many other snack foods on the market. The company's award winning all-natural snacks are produced without trans fats, preservatives, artificial flavors and colors, high fructose syrup and gluten ingredients that many other snack products use. LesserEvil's snacks are full of flavor, and still gives people a sinfully delicious treat without the guilt. LesserEvil has innovated the snack industry with their LesserEvil solution. They believe that life is about balance, and they don't believe in being perfect. LesserEvil vows to continue its mission to fight bad snacking with a little goodness. Join them in their journey towards a LesserEvil life.