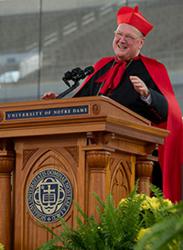 Here our goal is not just a career but a call.
Indianapolis, IN (PRWEB) May 24, 2013
Cardinal Timothy Dolan, Board of Trustee for the Franciscan Foundation for the Holy Land, addressed the Notre Dame 2013 graduates at their commencement services in South Bend, IN. with a call to action.
Although Notre Dame was dedicated to Mary at its inception, Dolan proposed that Mary not be just their patroness but their model and he acknowledged that she was the secret of her university, Notre Dame - that which made it so special.
He used Biblical scenes from the Holy Land: at the Annunciation when Mary said "Be it done unto me according to thy Word" in Bethlehem where Mary gave birth to the Son of God; at Cana where she said "Do whatever He tells you"; at the foot of the cross where she was made the Mother of us all.
In his speech, he states "Here at Notre Dame, we do not strive to be like Harvard or Oxford, but like Bethlehem, Nazareth, Cana, Calvary, and the Upper Room at Pentecost...with Mary, as the 'Word becomes flesh' in our hearts.
Cardinal Dolan is not a stranger to the Holy Land. Not only has he been numerous times but in 2012, he took 50 priests from the Archdiocese of New York with him on pilgrimage.
He also has a heart for the people of the Holy Land as evidenced by his involvement in the Franciscan Foundation for the Holy Land. Fr. Peter Vasko, President of the Foundation, says, "Cardinal Dolan has been a good friend to the people of the Holy Land. He understands well the importance of maintaining a Christian presence there." Fr. Vasko was glad to see that Cardinal Dolan took the opportunity to use his experiences in the Holy Land to make his point with the Notre Dame assembly.
Challenging the graduates Cardinal Dolan went on to say "Here our goal is not just a career but a call; not just a degree but discipleship; not just the 'I' but the 'we'; not just the grades but the gospel." He clearly was calling the students to think not just about what they have gotten but what they are going to give, how are they going to truly use Mary as their model, to try and follow in her footsteps.
He ends his speech, "There indeed is the secret of Notre Dame, not something but someone: our Lady, who gave the Divine a human nature, and invites us, equipped, please God, with what she's given us here, to do the same!"