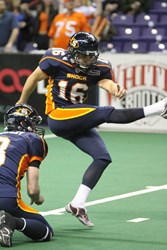 Rolling Hills, CA (PRWEB) May 30, 2013
Sports Agent has signed Spokane Shock Kicker Taylor Rowan. After graduating from Western Illinois University, Rowan played for the Arkansas Twisters. He has since played for the New York Sentinels and the Spokane Shock. Rowan helped his team win the AFL Arena Bowl with the Shock.
At WIU, Rowan broke the longest field goal record kicking 56 yards, was an All-American his junior year and pre-season All American his senior year, never missed an extra point in 149 attempts breaking the school, conference, and 1AA record, and was 7/9 for 50+ yard field goals.
Agent Jill McBride Baxter says, "After reviewing Taylor's recent kicks and talking to kicking coach Gary Zauner, it was clear that Taylor has the ability to kick in the NFL."
Here is a video of Taylor: http://www.youtube.com/watch?v=zzyq6pH1opk