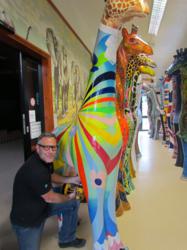 Colchester, Essex (PRWEB UK) 24 May 2013
Local artist Valerie Osment has created Giraff-oovy Baby as part of the Stand Tall for Giraffes project, which will see thirty 2.5m sculptures dotted around Colchester for 12 weeks from June 2.
Each of the giraffes has been sponsored by a local business, with the Giraff-oovy Baby design chosen by home entertainment specialists Clarke Infinity from over 100 submissions.
Director, Simon Clarke said: "As audio and visual specialists and installers we wanted our sculpture to capture a film or character that had obvious catchphrases so that we could add the element of sound to help our giraffe shake it baby at the parade! This giraffe is straight out of the flower-power era with its psychedelic swirling rainbow patterns, stylistic flowers, Austin Powers-style glasses and ruffed lace cravat. He is the perfect guest for Colchester Zoo's birthday celebrations."
Amina Technologies specialize in invisible speakers and unseen audio lifestyle solutions. They have previously worked closely with Clarke Infinity on a number of projects and have agreed to provide the speakers, sensors and relevant equipment required for the project.
Managing Director, Richard Newlove of Amina Technologies said, "Well, we've been asked many things but how to make a giraffe sound like Austin Powers is a new one on us! We are looking forward to making this happen. The idea is that as you approach Giraff-oovy Baby he will play music or say something to brighten your day. We'll be able to say officially that we can provide invisible sound solutions in any and every walk of life – including giraffes."
Valerie Osment is a professional visual artist who studied art and design at Colchester School of Art before undertaking a graphic design and illustration degree at the University of Creative Arts in Kent. With illustration at the centre of her work, she draws upon multiple media to create art that is site and purpose specific in 2D or 3D form.
She said: "As a local artist, I was thrilled to have my design selected to mark the 50th birthday of Colchester Zoo. I wanted quite a humorous concept for my giraffe and it seemed very fitting to play on the zoo's 1960s roots. I hope he raises a smile when people spot him out and about. He is the only one located in Chelmsford this summer."
The Stand Tall for Giraffes project is being run in partnership with art event specialist Wild in Art which has successfully staged similar events in other parts of the UK as well as in Europe and Africa. Event sponsors include firstsite, University of Essex, Sainsbury's and McDonalds. After being on show for 12 weeks, all of the giraffes will be auctioned off to raise money for the zoo's charity Action for the Wild.
Colchester Zoo Director Anthony Tropeano said: "Giraff-oovy Baby is a really fun addition to the Stand Tall for Giraffes project and we can't wait to see him striking a pose from June 2. When we take him to More London for display after the campaign before they are auctioned for charity, I'm sure a great photograph of him with a Tower Bridge backdrop will be another talking point of this project!"
For more information about Stand Tall for Giraffes, visit http://www.colchester-zoo.com/standtall.
-ends-
Notes to Editors

Constantly evolving, Colchester Zoo is an award winning wildlife attraction which stretches over 60 acres in the heart of the Essex countryside. It has nearly 300 species in modern, naturalistic enclosures; many are which are part of vital international breeding programmes. In 2013, Colchester Zoo celebrates its 50th anniversary with "Stand Tall for Giraffes" a mass appeal, large-scale public art event which culminates in a high profile auction for its charity Action for the Wild. The funds raised will help to assist conservation projects all over the world including the charity's UmPhafa Reserve in South Africa.http://www.colchester-zoo.com/standtall.
Wild in Art is the UK's leading arts and education company, bringing the creativity and enjoyment of public art to thousands of people through its high profile and popular events. Working with host partners, artists, communities and schools together with public and private sector organisations, Wild in Art produces mass participation events that animate cities and towns around the UK and beyond. Through inspiring partnerships, Wild in Art events bring immense pride to communities while offering extraordinary social and economic benefits as thousands of residents and tourists alike discover the wonderful world of creativity in a truly memorable shared experience. Conservation and citizenship are at the heart of Wild in Art's education work which includes the provision of unique art education resources which engage young people to unleash their creative talent, and enhance learning across the curriculum. In 2012, you can find Wild in Art in Northampton, Newport, London and Melbourne, Australia. Find out more at http://www.wildinart.co.uk.
Media enquiries (including requests for hi-res images):
KAT Creativ
Katie Skingle
Email: katie(at)katcreativ(dot)co(dot)uk
Tel: +44 (0) 1206 765544 Mob: +44 (0)7786 165656