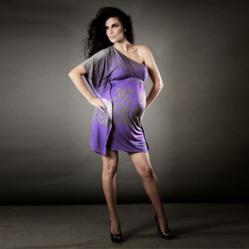 Every woman is beautiful no matter what size they wear.
Dubai (PRWEB) May 28, 2013
Whether women are extra small, or triple extra-large, Dubai-based fashion designer Jenny Rose now has the size for them.
Fashion Designer Jenny Rose is proud to begin offering sizes to fit every type of woman. She carries extra small, small, medium, large, extra-large, double extra-large and triple extra-large in all of her designs.
Jenny Rose's inspiration comes from a love of accentuating and enhancing the female form. By keeping lines simple and clean, women leave Jenny Rose with a more confident swing to their step.
The fashion designer is thrilled to be able to offer clothing for every woman. "Size doesn't matter," Jenny Rose says. "Every woman is beautiful no matter what size they wear."
Women are encouraged to order their pre-pregnancy size when ordering clothing from Jenny Rose. This will achieve the best fitting results. Wearing a size bigger will only make women look like they have gained weight rather than like an expecting mother.
"I believe in embracing the pregnant figure and the nine months of style," proclaims Jenny Nicholson, head of Jenny Rose and a mother of three, herself. "That's why our maternity clothes are available in such a wide, stylish and contemporary range that wearing them will make even your single friends jealous."
Founded in 1998, Jenny Rose was the first dedicated maternity and transition wear retailer in Dubai and continues to set the standard for quality and fashionable clothing for women. She hopes to reach even more people outside of Dubai through her website, which also offers "My Cozzie," her designer Arabic swimwear line.
Jenny Rose has a convenient shop in the Mall of the Emirates, and clothing can also be purchased on her website at http://jennyrose.net/. She accepts Visa, MasterCard, Discover, Paypal, and even cash on delivery.