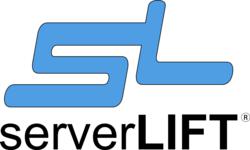 (PRWEB) May 28, 2013
ServerLIFT Corporation is proud to join Fortunes 2013 Inner City list of the 100 fastest-growing businesses in the United States as recognized by Fortune Magazine and the Initiative for a Competitive Inner City (ICIC).
The Inner City 100 program honors successful inner city companies and their CEOs, recognizing them as drivers of urban job creation and roles models for entrepreneurship and innovative business practices. The rankings for each company were announced on Tuesday, May 21st in at the 2013 Fortunes Inner City Awards Symposium in Boston, Massachusetts. This year's Awards marked the program's 15th year with the ICIC receiving over 2000 nominations for the 2013 list.
Companies selected were ranked by compound annual growth rate (CAGR) based off revenue over a five-year period from 2007 – 2011. ServerLIFT Corporation the only company in Arizona included on the list, reporting an impressive 24% five year CAGR. Sustaining this growth rate, especially given the difficult economic conditions prevalent during the 2007 – 2011 qualifying period, is a testament to ServerLIFT Corporation's dedication to quality, innovation and diligence.
Between 2012 and 2013 ServerLIFT continued to innovate with a range of products to help address specific needs and growing trends in the IT industry. Ranging from the SL-350X™ Manual ServerLIFT, which accommodates smaller data centers, to the ever popular SL-500X™, to the SL-1000X™ Powered ServerLIFT which addresses the growing demand for greater weight capacities, ServerLIFT continues to demonstrate responsiveness to the needs of a rapidly changing market. With a constant effort to survey the market and be aware of the latest industry trends, ServerLIFT is known as the global leader in solutions geared towards improving safety and efficiency in data centers worldwide.
About ServerLIFT Corporation
ServerLIFT Corporation is a privately-held company headquartered in Phoenix Arizona that specializes in manufacturing server handling solutions designed to safely move and lift IT equipment in data centers globally. Since 2002, the company has pioneered unique solutions to increase safety, improve data center productivity and lower operating costs.
With a focus on creating products that are designed specifically for data center environments, ServerLIFT has become the premier provider of IT equipment handling solutions. The company's commitment to creating exceptional value has made ServerLIFT products the choice for leading data centers around the world.
For more information on ServerLIFT products please visit http://www.serverlift.com.