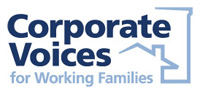 Washington, DC (PRWEB) May 23, 2013
As the nation pauses to honor its military service members this Memorial Day, Corporate Voices for Working Families has published an important new resource designed to assist breastfeeding and nursing mothers serving in the United States military.
Corporate Voices' infant nutrition and breastfeeding toolkit, "Healthy Babies Make Happy Moms—and Successful Servicewomen", provides a menu of free, reliable, and easily accessible resources for servicewomen, their commanding officers, and health professionals connected with the military. The online guide details the well-documented physical health and emotional benefits of breastfeeding for mothers and for babies. Importantly, it also explores the specific advantages that breastfeeding may confer to women in the armed forces—including a faster return to peak physical fitness and military readiness.
The toolkit and related resources were developed by Corporate Voices for Working Families in consultation with its Military Lactation Task Force, a select group of individuals including high-ranking military officials and medical personnel with extensive experience and expertise in the health policy arena.
Today, approximately 200,000 women serve in the U.S. military—comprising about 14.5 percent of the active-duty force. The large majority of them are of child-bearing age, and many are mothers. In recent years, experts say the U.S. Department of Defense has made great strides in ensuring that breastfeeding is a top health priority, helping promote and support the practice in military hospitals and clinics. Corporate Voices' new toolkit will support these educational and outreach efforts.
The military lactation toolkit is produced by Corporate Voices for Working Families and its strategic partners, Working Mother Media and Abbott. Funding was provided by Abbott.
To access the complete toolkit, please visit http://www.corporatevoices.org/military-toolkit.
About Corporate Voices for Working Families
Corporate Voices for Working Families is the leading national business membership organization shaping conversations and collaborations on public and corporate policy issues involving working families. A nonprofit, nonpartisan organization, Corporate Voices creates and advances innovative policy solutions that reflect a commonality of interests among the private sector, government and other stakeholders. Since 2001, we have researched and promoted best practices in the areas of workplace flexibility, work/life balance, workforce readiness, and economic security for lower-wage and hourly employees. A prominent feature of that work is our focus on educating employers on the importance and benefits of breastfeeding support for new mothers. Our online workplace lactation toolkit, "Healthy Babies Make Happy Moms—and Excellent Employees!", offers a range of free resources designed to help employers establish successful workplace lactation programs for their hourly employees and others, thereby complying with new federal law. The toolkit is built on research demonstrating that companies offering their employees the resources to make healthy choices about how to feed their babies report greater employee morale, productivity, and retention, as well as reduced health care costs—all of which support the business bottom line.
All of Corporate Voices' business publications, research studies and toolkits on a host of workforce readiness, workplace flexibility, family economic stability and work/family issues are available online at http://www.corporatevoices.org.
# # #