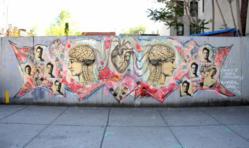 "'Think with Your Heart' breathes new life into transitioning streets. We're honored to feature her [Magdalena Marcenaro's] work and call her a partner," said Javier Egipciaco, NU Hotel Brooklyn's general manager.
Brooklyn, NY (PRWEB) May 24, 2013
Artist Magdalena Marcenaro made her debut at NU Hotel earlier this year with a colorful, floor-to-ceiling mural in a guestroom as part of the NU Perspectives project. Now, she has taken her art to the streets with the creation of two neighborhood murals, located two blocks from the hotel on Pacific Street between Smith and Dean Streets. To celebrate the completion of these murals, NU Hotel is hosting a gallery show of the artist's work beginning on June 6, commencing with a toast to the artist.
Marcenaro's gallery show in Misdemeanor, NU Hotel's lobby bar and lounge will feature 15 of her mixed media works. The show will be up from June 6 – 27 and the artist will have limited-edition silkscreen prints of one the neighborhood mural images available for sale. Commissioned by the Pacific Street Association, "Think with Your Heart" is intended to revitalize the area as it undergoes construction.
"We're delighted to support Magdalena as she uses her talents to give back to the community with street art that is inspirational and positive," said Javier Egipciaco, NU Hotel Brooklyn's general manager. "It's wonderful how passionate she is about getting involved. 'Think with Your Heart' breathes new life and beauty into transitioning streets. We're honored to feature her work and call her a partner."
The toast and gallery premiere begins at 7:00 p.m. on June 6 in Misdemeanor. Attendees will be invited to take the short walk to view the murals at 7:30 p.m. and will then return to the hotel for the remainder of the opening. At 8:30 p.m., there will be a toast to the artist followed by an artist Q& A. The June 6 toast and gallery opening is open to the public, but RSVP is required. RSVPs should be sent to: events(at)independentcollection(dot)com.
About NU Hotel Brooklyn:
NU Hotel is inspired by the dynamism of Brooklyn and an urban style apartment. The Brooklyn boutique hotel offers modern, simple design, luxury amenities and exceptional service at the center of four great neighborhoods: Cobble Hill, Boerum Hill, Park Slope, and Carroll Gardens. NU Hotel is a member of the Independent Collection.
About The Independent Collection:
The Independent Collection is a growing collection of smaller, more intimate boutique lifestyle hotels located in truly unique neighborhoods of gateway cities across the US. The collection is founded on the principles of authenticity, leadership, generosity, and modesty. Hotels of the Independent Collection are created for the independently minded traveler.
About HHM:
HHM, formerly known as Hersha Hospitality Management, operates 115 hotels across the United States. It provides turnkey hotel management, asset management and receivership for properties with leading brand affiliations through Marriott, Hilton, Hyatt, Starwood, and Intercontinental Hotel Group. HHM also operates 14 independent hotels ranging from the AAA Five Diamond Rittenhouse Hotel in Philadelphia, to the oceanfront Postcard Inn in the Florida Keys. Its highly experienced team is accustomed to serving as a fiduciary to publicly traded companies, joint ventures, institutional real estate owners and private investors. Additional information on HHM can be found at hhmhospitality.com.