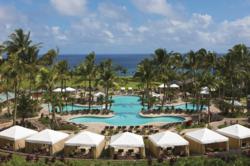 Kapalua, Maui, Hawaii (PRWEB) May 28, 2013
The wine glasses are polished, the aprons are pressed and the knives are sharpened at The Ritz-Carlton, Kapalua as the premier Maui beachfront resort readies to host the 32nd Annual Kapalua Wine & Food Festival from June 6 – 9, 2013. Event preparations continue for the next two weeks leading up to the event when renowned wine-makers, star-power chefs and Maui's own celebrated contingent of culinary stars will converge for this unforgettable weekend of epicurean delights. "Kapalua Wine & Food Festival brings together some of the best chef and wine talents from the mainland to Maui, a destination of unmatched beauty," said Tom Donovan, Vice President and General Manager. "The Ritz-Carlton is proud to host and support this annual tradition of events in Kapalua," he continued.
This year's festival boasts Master Sommeliers Michael A. Jordan, MS, CWE as host and Chuck Furuya, MS as co-host. Highly touted celebrity chefs, Gary Danko of Restaurant Gary Danko in San Francisco and Nancy Oakes of Boulevard in San Francisco, will lead interactive cooking demonstrations of their specialty cuisines during the weekend.
Saturday, June 8 from 1-3 pm
Experience James Beard Award-winning Chef Nancy Oakes' of San Francisco's Boulevard and her wonderful expression of American regional flavors and French-influenced style. Cooking demonstration menu includes:
1st Course: Avocado Risotto with Summer Truffles
2nd Course: Zabuton Beef Tataki, Big Island Hearts of Palm, Petite Lettuces and Field Greens
3rd Course: Just-Baked Shortcake with Fresh Strawberries
Sunday, June 9 from 1-3 pm
Award-winning Chef Gary Danko of Restaurant Gary Danko epitomizes sophisticated contemporary cuisine. This is a once-in-a-lifetime opportunity to see one of America's finest chefs up close and personal and learn the secrets of his eponymous San Francisco institution. Cooking demonstration menu includes:
1st Course: Dungeness Crab Salad, Mango, Avocado and Asparagus
2nd Course: Lemon Pepper-crusted Duck Breast with Duck Hash, Bing Cherries
3rd Course: Crème Fraiche Cheesecake with Macadamia nut Crust, Golden Pineapple
Throughout the weekend, food and wine aficionados can also select from an impressive list of restaurant tastings and wine seminar highlighted by:
The Grand Tasting - Kapalua Style
Friday, June 7, 6:30-9:30 pm
Explore premium and rare celebrated wines from regions around the world and savor the cuisine of Kapalua's family of restaurants and culinary stars along with live local entertainment on the Beach House Lawn.
Kapalua Seafood Festival
Sunday, June 9, 6:30-9:30 pm
Sample vintage wines, beers and spirits along with tastings from fourteen of Maui's finest restaurants and Kapalua Wine & Food Festival Signature Finale event.
Other Featured Wine Seminars and Tastings include:
In Pursuit of Balance Wine Tasting Seminar (IPOB):
IPOB seeks to promote dialogue around the meaning and relevance of balance in California Pinot Noir and Chardonnay featuring the wines of: Sandhi Wines, Wind Gap, Kutch, Chanin
Pritchard Hill Gang Rides at Kapalua Tasting Seminar:
The most exclusive growing region in Napa that you've never heard of! A hot-bed for 'cultish' California Cabernets! Chapellet Vineyards, Ovid, BRAND Napa valley, David Arthur, Continuum
Napa Cabernet Brain Trust Wine Tasting Seminar:
Not-to-be-missed sampling from three of Napa's most revered winemakers
Melka Wines, Mia Klein, Leviathan and Favia Wines
Tickets are still available and can be purchased online at http://www.kapaluawineandfoodfestival.com. For a full schedule of events, please visit http://www.kapaluawineandfoodfestival.com.