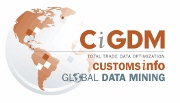 Eight years ago, there was a reason for two companies, but not now. The merger will enable us to closely integrate our Content, Services and Software businesses. This increased collaboration will also mean improved product innovation and customer service
Eden, UT (PRWEB) May 23, 2013
CUSTOMS Info Global Data Mining promoted Ron Lackey to CEO.
This new position comes as the result of the merger and reorganization of customs compliance CUSTOMS Info, LLC and Global Data Mining, LLC. Lackey will be responsible for leading the newly merged CUSTOMS Info Global Data Mining.
Leading CUSTOMS Info for the last eleven years, Lackey was instrumental in the expansion of the business since it was spun out of KPMG in 2004. He oversaw the massive increase in data collected, normalized, and marketed via subscription website, partner applications such as SAP, Oracle and MIC and eCommerce platforms.
Customs Info Global Data Mining is now one of the largest providers of customs compliance content, including duty, tax and regulatory information for Global Trade Management Applications and international eCommerce companies in the United States. Under Ron's leadership CI continues to show double digit growth annually since 2004.
"As our businesses have grown, they have grown together." Said Ron Lackey, CEO of Customs Info Global Data Mining. "Eight years ago, there was a reason for two companies, but not today. The merger will enable us to closely integrate our Content, Services and Software businesses. This increased collaboration will also mean improved product innovation and customer service". Lackey said.
CUSTOMS Info Global Data Mining help businesses optimize global trade management (GTM) systems and streamline global trade compliance automation. We provide the world's most comprehensive trade data repository delivered via web-based subscription, API web services or as data to populate any GTM or Landed Cost application. We are the largest provider of duty and tax content for international e-commerce with hundreds of e-commerce sites utilizing our data to provide accurate landed cost information. Our data and services provide faster deliveries and fewer border delays. We help multi-national companies increase the informational value of trade data and the productivity of global trade staff to reduce operating costs, improve customs compliance, accelerate supply chain speed and maximize the return on investment of this corporate function. Areas of expertise include customs classification research, customs auditing and trade data analytics/business intelligence.
Working in conjunction with GTM applications, our strategic partners include SAP, Oracle, MIC and other trade software partners. Please visit http://www.customsinfo.com for more information.