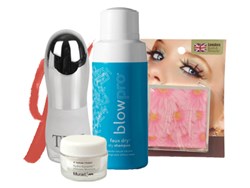 "I love these gift sets they are creative and affordable!"
(PRWEB) May 25, 2013
It's not astonishing that holidays are amongst the most stressful times of the year. The demands are endless, from family, friends and co-workers. Between the parties to attend, gifts to buy, children who want more than their parents can afford, parties to arrange, and so much more. Then, after holiday season, comes graduations, birthdays, anniversaries and it seems like an eternal cycle of gift giving. At some point gift ideas become tired and income can't catch up to the expenses of these gifts.
TheBeautyPlace.com launches their new essential beauty kits. Beauty survival kits are assembled by beauty experts available in different sizes and price ranges. They contain different beauty items at a discounted price. Each kit is made to fit the individual needs of the consumer. They are economical and have creative gift ideas for every occasion.
There are assortments of beauty kits available on the market today, making it difficult to pinpoint the perfect kit for the right occasion or situation. Thebeautyplace.com goes a step further by explaining how each of their beauty kits fit specific occasions different for each gift receiver. The summer months mean vacations, graduations and Fathers day Celebrations. All of these are gift worthy occasion.
In general, we celebrate similar occasions but as individuals maybe very different. The beauty experts studied various types of people and handpicked specific products to fit dissimilar needs. For example, the Travel kits, both the Weekend Travel Expert Kit and the Straight From the Plane kit are both related to traveling but target different travelers. The Weekend Traveler kit focuses more on essentials for the weekend while Straight From the Plane kit gets people prepped and ready to go from the plane to the party.
Not only do these kits meet specific needs for different individuals but also have a diversity of themes. The Mr. Right kit is ideal for a Father's day gift or a birthday present for any man. The Big Day kit has every essential a bride or bridesmaid could possibly need to cater to the bride on her Wedding Day. They also have kits exclusively for those who want to tame their curly hair, for those who want soft sleek hair and those who want to repair their hair.
The beauty kits leave people with endless options of gifts for every occasion. Whatever the demand is these kits were creatively crafted to serve the need.