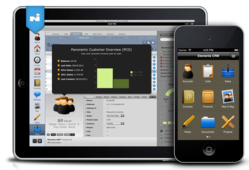 Grand Fork, ND (PRWEB) May 24, 2013
Ntractive today released a major update to the Elements CRM App for iPhone and iPad, Elements CRM Mobile 2.1. Elements CRM is a cloud-based Mac Customer Relationship Management (Mac CRM) Solution for Mac business and enterprise. Ntractive is reinventing the CRM Experience for Mac users all over the world with their Elements CRM solution.
Elements CRM Mobile 2.1 comes with some exciting new features available on the iPad app including a new Enterprise Edition which includes opportunity tracking, deals, additional document storage, over 100 analytic maps, charts and gauges and many other new features. The iPhone version now supports the iPhone 5 full 4-inch retina display giving users access to even more information from their mobile CRM.
Along with all the new features of Elements CRM mobile 2.1, Ntractive has also launched their next generation cloud. The new enhanced cloud makes the Elements CRM cloud a perfect solution for businesses who need guaranteed uptime, security, speed, scalability and flexibility. Ntractive pioneered hybrid web apps on the Mac in 2007 and this jump to the next generation Mac CRM cloud is just the next step in the evolution of Elements CRM.
Visit Ntractive's website to learn more about Elements CRM Mobile 2.1 and the newly released Enterprise Edition.
Pricing and Availability
Elements CRM Mobile 2.1 is available immediately. The download is free but requires a subscription to Elements CRM and a subscription to Elements CRM Mobile. Small Business pricing starts at $24.95/user/mo, Professional pricing starts at $49.95/user/mo, Enterprise pricing starts at $69.95/user/mo and Elements CRM Mobile add-on pricing starts at $10/user/mo (http://www.ntractive.com/mac-crm/en/pricing/). Some features are available to Professional or Enterprise Users only. Elements CRM Mobile 2.1 is available for download in the iTunes app Store and the Ntractive Website.
About Ntractive
Ntractive is the Mac Customer Relationship Management (Mac CRM) company that develops Elements CRM. Ntractive is changing the way companies collaborate, work and communicate on the Mac and iOS Devices. The company's Elements Platform, which is part desktop and part cloud, is powered by Webkit. Webkit is the open source browser engine that is used by Safari, the iPad and iPhone and many other applications. To learn more about Ntractive, go to http://www.ntractive.com
© 2006-2013 Ntractive, the Ntractive logo, Elements CRM, and the Elements CRM logo are trademarks of Ntractive, LLC. Other company and product names may be trademarks of their respective owners.