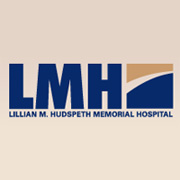 SONORA, TX (PRWEB) May 24, 2013
The National Rural Health Association (NRHA) has recognized Lillian M. Hudspeth Memorial Hospital as one of the nation's Top Critical Access Hospitals for Financial Stability. Lillian M. Hudsepth Memorial Hospital received the Financial Stability recognition based on data from iVantage Health Analytics.
The Financial Stability Index is based on the rating of a hospital's performance from a set of balance sheet and income statement financial ratios. Lillian M. Hudspeth have been able to renovate the hospital as well as add new equipment and wings without any assistance from the Government or having to raise local taxes.
Lillian M. Hudspeth Memorial Hospital will receive their award during NRHA's Critical Access Hospital Conference in Austin, TX on October 1-4, 2013.
About the National Rural Health Association
NRHA is a nonprofit organization working to improve the health and wellbeing of rural Americans and providing leadership on rural health issues through advocacy, communications, education and research. NRHA membership is made up of 21,000 diverse individuals and organizations, all of whom share the common bond of an interest in rural health. For more information, visit RuralHealthWeb.org.
About iVantage Health Analytics
iVantage Health Analytics, Inc. is a privately held health care business intelligence and technology company. The company is a leading provider of information products serving an expansive health care industry. iVantage integrates diverse information with innovative delivery platforms to ensure customers' timely, concise and relevant strategic action. For more information, visit iVantageHealth.com.
For more information about Hudspeth Memorial Hospital, please visit:
Facebook: https://www.facebook.com/HudspethMemorial
Twitter: @SonoraTexasHosp
or
Online: http://www.sonora-hospital.org
Release Issued by Hudspeth Memorial
Lillian M. Hudspeth Memorial Hospital opened its doors on July 1, 1951. Over the years, the hospital served the community well. In September of 1970, a one story 39 bed Nursing Home was added to the original building. An active Women's Auxiliary furnished many amenities for hospital patients and nursing home residents.
In 2001, faced with an aging physical plant, the Board of Directors began to develop the plans to replace the hospital with a new state-of-the-art hospital. Construction was complete in summer of 2005 and patients and staff moved into the new facility with amenities and technology never before available in Sonora. The new facility included complete digital imaging, multi-slice helical scanner, ultrasound and PACS. The laboratory was tripled in size and included state-of-the-science analyzers. The emergency department has five beds with bedside monitoring connected through a wireless telemetry system that also monitors the twelve private acute-care beds. In addition to the acute hospital, The Health and Wellness Center opened. The Health and Wellness Center includes fitness facilities, in-door swimming pool, aerobic facilities and member showers and locker facilities. In addition to the fitness areas, the Center includes a physical therapy department with dedicated wound care and a cardiac and pulmonary rehab department. Construction of a 6.2 million dollar 8200 sq/ft facility to house MRI, GI lab/procedure space and mammogram was completed in October 2010. The Diagnostic Center provides for specialty clinics including cardiology, neurosurgical, nephrology and orthopedics. The facility includes women's imaging and a GI suite. Womens' imaging suites includes digital mammography, ultrasound and breast capable MRI.
In August 2011 the Sutton County EMS transitioned from a mostly volunteer service to a full time advanced life support service. The partnership between Sutton County and The Hospital District allows for this leap in EMS service. The operations will be managed by the Hospital District and both 911 and non-emergency transportation is available.
In 2012 two new programs were added to our every growing service line. In April Sports Medicine was added to our rehabilitation services. Two athletic trainers provide care and prevention to the Sonora ISD and surrounding county schools. This program integrates the local medical staff, visiting orthopedic surgeons, Wellness Center and the physical therapy staff to reduce and minimize athletic injuries. In addition to school activities the staff are available for consultation to weekend warriors as well.
On August 1, 2012, the Sutton County EMS, Hospital and Sonora Medical Clinic began offering services through the Community Paramedic Program. The Community Paramedic Programs offers services to our patients in their home that range from safety and preventive services to health monitoring and medication reconciliation. These services are provided free to the community and utilize the EMS personnel through a multidisciplinary quality program. The goal of the program is to improve compliance with health issues like diabetes and heart disease and to prevent falls, unnecessary emergency visits and readmissions.
Administration and staff continue to plan the future by providing the latest medical technology to the citizens and travelers in this region of Texas.