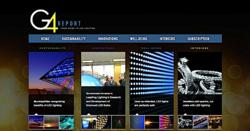 Studies in the US found that LED lights on airport towers had a less disorienting effect on migratory birds, reducing the likelihood of collisions.
Toronto, ON (PRWEB) May 24, 2013
Your source of news and information about LED lighting, the G4Report, reports on a growing trend in retail store conversions to efficient LED lighting solutions in place of traditional, high-energy, low-value lighting. And they are doing so with enthusiasm. Whether it's a Lexus dealer in Texas or a jewelry store in Michigan, retailers love what they get when they switch to LED. The G4Report has these stories and more, including how LED lighting is beneficial for wildlife.
"LED lighting gives car dealers a bright, shiny advantage"
If there's one retail space in North America where we expect pizzazz and bright lights, it's the car dealership. Every town, no matter how small, seems to have at least one. Car dealerships use more lighting than almost anywhere else—in the showroom, in the office, in the service centre, and most especially, out on the lot. Those cars have to shine, day and night. Not surprisingly, more and more dealership owners are realizing that they can have the razzle-dazzle of a brightly lit showroom and lot, and cut costs on their electricity bill at the same time, with some well chosen LED lighting. See who's been making the switch here.
"Jewelers add sparkle, cut costs with LED lighting"
From the big, brash, fast-paced environment of a car lot to the quiet intimacy of a jeweler's shop, LED lighting plays a vital role. Jewelry presents a particular challenge to a lighting designer, as pearls and diamonds really looks best in natural light. How do you simulate natural light in the typical store? LED lighting can come close, and it provides numerous other benefits as well, not least its cost-saving energy efficiency. But did you realize that the heat created by traditional lighting in a display case can damage delicate jewelry creations, even contributing to tarnishing? It's why jewelers are looking closely at the better solutions provided by LED, as you'll see here.
"LED lighting beneficial for wildlife too"
Unfortunately, millions of birds are killed every year in North America by colliding with buildings and other man-made structures. Included in these structures are lighted towers used around airports. Studies in the US found that LED lights on airport towers had a less disorienting effect on migratory birds, reducing the likelihood of collisions. Not only birds but sea turtles, it turns out, can benefit from having LED lights in their hatching area. Workers in Florida have found that LED lighting is more benign for hatchling sea turtles as they make their way from beach to sea, causing virtually none of the babies to lose their way, as often happens when they are confused by bright lights of other kinds. Follow up with his story here.
About The G4Report
The G4Report is your comprehensive and entertaining source for news and information about LED lighting in all its applications, with an emphasis on commercial applications. Anywhere that LED lighting is saving businesses money and improving their environmental performance, we're there to report it, under one of the following categories:

Innovation: stories about the latest LED R&D and what you can expect to see in the future: would you believe LiFi?
Sustainability: learn how LED lighting helps reduce greenhouse emissions and landfill.
Well-being: from hospitals to NASA to light therapy, LED lighting is having a profound effect on the way we provide health care.
Interiors: innovative new LED lighting products are changing the way we approach interior design, making it possible to do things we never imagined before. We cover them all.
The G4Report: Your Guide to LED Lighting is a publication of Zines Online, a service of Persona Corp.