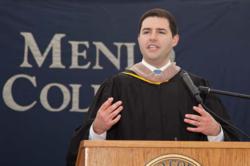 Pursue your passion.
Embrace a culture of failure.
Persevere.
Atherton, CA (PRWEB) May 24, 2013
Jed York, CEO of the San Francisco 49ers, was the keynote speaker at Menlo College's Commencement 2013 ceremony on May 11. The College's ties to the 49ers can be traced back to 1946 when the football team's summer training camps were held on Menlo's campus.
York shared his personal experiences with an enthusiastic crowd and described his road to success, as well as the obstacles he faced along the way. He emphasized that graduating seniors should focus their work on what they're passionate about and that they should treat failures as lessons, not hindrances. He also underlined the importance of perseverance and encouraged the graduates to make their dreams become a reality.
"The story of Jed York's entrepreneurial efforts in turning around a major sports team at the beginning of his career was an inspiration for students and the community," said President James J. Kelly. "He met with formidable challenges in building the SF 49ers and in creating his own identity in sports management, especially coming from a family who owned the business. He described his experience with humor and humility. We are honored that he shared his insights with the students and community at Menlo College."
York's concluding remarks to the graduating class were, "You now have an opportunity to do whatever you want. Your vision is completely wide open. Take a chance. Don't be afraid to fail in the decisions you are going to make, whether it's the job you're going to take, where you're going to live, asking that cute guy or girl out, or doing something that's just spontaneous. They might say no, and what you've chosen may blow up, but that's ok. Embrace that culture of failure, persevere through those tough times, and just follow your passion."
Read more about Jed York on San Francisco 49ers Homepage
About Menlo College
Menlo College, Silicon Valley's Business School, was established in 1927. It is a private, four-year, accredited, residential business college located in Atherton, California. http://www.menlo.edu