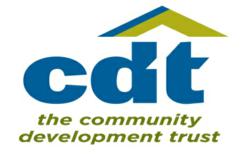 New York, NY (PRWEB) May 29, 2013
The Community Development Trust (CDT), the country's largest private real estate investment trust (REIT) which provides capital for the preservation of affordable housing, announced today that it has partnered with Proto Property Services (Proto) to purchase and rehabilitate Ocean Towers in the Coney Island section of Brooklyn. Ocean Towers is a 360-unit property located on West 24th Street between Mermaid and Surf Avenues, which was originally constructed under the Mitchell-Lama Program in 1973. The $52 million project will preserve affordable homes in an area hit particularly hard by Hurricane Sandy. While CDT currently owns nearly 5,000 units of affordable housing throughout the United States, Ocean Towers represents its first acquisition in New York City.
"The acquisition of Ocean Towers will allow CDT and Proto to preserve and improve the homes of 360 families in Coney Island. The fact that Hurricane Sandy impacted so many areas of New York where affordable housing was already scarce makes this acquisition all the more important," said Joseph Reilly, CDT's president and CEO. "Our rehabilitation of Ocean Towers will make the building more energy-efficient and provide for resiliency against future storms. But more importantly, we are also ensuring that Ocean Towers remains affordable for the families who already call the property home."
Proto, an experienced developer of affordable housing which has successfully completed the rehabilitation of more than 1,200 occupied units in New York City, including two large-scale properties in Brooklyn, will serve as the managing member, general contractor and property manager for the property. Proto will be responsible for completing a scope of work which includes major system replacements that will extend the building's useful life for many years to come. "Preserving affordable housing is one major step in rebuilding communities affected by the storm. At Proto, we're excited to play a part in the recovery efforts on Coney Island by providing the residents of Ocean Towers with a safe, secure and high-quality living environment," said Demetrios Moragianis of Proto.
The purchase and rehabilitation of the property is being funded with $10 million of equity from CDT and Proto and a $35 million acquisition loan originated by Enterprise Community Loan Fund, Inc. (Enterprise), a subsidiary of Enterprise Community Partners, Inc., through the New York City Acquisition Fund (NYAF). Managed by Forsyth Street Advisors, the $150-million NYAF is an unprecedented collaboration among Enterprise, the City of New York, major foundations, and New York's public and private community investment groups to provide flexible capital for acquisition and pre-development costs to developers committed to creating and preserving affordable housing in the five boroughs. The $35 million acquisition loan for Ocean Towers is the largest transaction originated through NYAF.
The project is expected to receive an additional $4.5 million of funding through the NYC Department of Housing Preservation and Development (HPD) through its Article 8A Loan Program. The Article 8A Loan Program provides rehabilitation loans to prolong the useful life of multiple dwellings in New York City. The rehabilitation of Ocean Towers will include: conversion from electric heat to natural gas heat with new high-efficiency boilers installed above Sandy flood levels, individual electric meters, full elevator replacement, new building entry, parking lot resurfacing and a new entry gate, new unit entry doors, and common area improvements. Residents will remain in-place with minimal disturbance throughout the renovations which are expected to be completed in approximately 18 months. Upon the completion of the improvements, the property's rents will be regulated under New York City's Rent Stabilization guidelines.
The project also received a commitment for a $1 million loan from Enterprise's Bank of America Energy Efficiency Loan Program and may be eligible for additional performance-based funding of more than $400,000 from the New York State Energy Research and Development Authority. Long-term financing will be provided by The Community Preservation Corporation, which has issued a commitment for a $35 million, 30-year mortgage insured by the State of New York Mortgage Agency (SONYMA) and funded by the New York City Employees Retirement System (NYCERS). "We are extremely pleased to have been able to bring all of these organizations together in a cooperative effort to provide the necessary resources to make this project a reality," added Reilly.
"Not only will this project allow for much-needed improvements and bring this former Mitchell-Lama property under rent stabilization allowing for long-term affordability, it will also set a precedent for the future development of resilient, environmentally responsible housing in storm-prone regions," said Shola Olatoye, vice president and New York market leader, Enterprise. "The innovative New York City Acquisition Fund was created to enable responsible owners like CDT and Proto to purchase and preserve affordable housing in New York, where the competition to land marquee multifamily properties is intense and the need for affordable housing continues to increase. Following Hurricane Sandy, innovative financing is in even greater demand to also make affordable housing more resilient to future storms. Thanks to the close collaboration among CDT, Proto, Enterprise and other partners, 360 families will continue to live in quality, safe, and resilient affordable homes for years to come."
"We are happy to see the preservation of affordable units in Ocean Towers. This former Mitchell-Lama is being brought back into affordable housing with the hard work of our partners. The development will receive much needed upgrades including the implementation of storm resiliency measures to ensure the safety of residents throughout future severe storm conditions. I'd like to thank the Community Development Trust and Proto Property Services for their commitment to preserving affordable housing in New York City," said HPD Deputy Commissioner of Development RuthAnne Visnauskas.
"Ocean Towers is an excellent example of a multi-faceted preservation project that will help to maintain affordability for tenants and bring the development into the 21st century with sustainable and energy-efficient renovations," said Rafael E. Cestero, president and CEO, The Community Preservation Corporation. "CPC's permanent loan would not be possible without the financial support of the New York City Employee Retirement System, and this project would not be possible without strong public and private sector support. Together, we are creating a lasting model in New York for rebuilding in the wake of Hurricane Sandy and ensuring that stable and sustainable affordable housing remains a priority."
About CDT
CDT is the country's only national CDFI and hybrid REIT which provides debt and equity capital for the preservation of affordable housing. Working with local and national partners, CDT makes long term equity investments in support of the preservation of affordable housing. CDT also originates and provides a secondary market for long-term mortgages which support the development and preservation of affordable housing. After more than fourteen years of operations, CDT has invested more than $850 million in debt and equity capital to properties in 42 states -- helping to create and preserve more than 32,500 units of affordable housing. CDT is a Fannie Mae approved lender as well as a member of the Federal Home Loan Bank of New York.
###