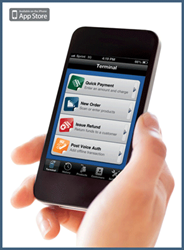 Los Angeles, CA (PRWEB) May 24, 2013
USAePay, an industry leading payment gateway, released update version 1.2.7 of their iPhone Mobile App, available now at the iTunes App store. USAePay's iPhone App makes accepting mobile payments easy and convenient.
New and updated features on USAePay iPhone app version 1.2.7 include:
•Restricted access to report screens and clear database option, protected by pin access code. Enable through settings.
•Option to hide disabled products from products screen, in the settings tab under orders.
•Audio volume will automatically increase to 100% when PaySaber Jack is plugged into audio port.
•Ability to enable mobile transaction location data
Accepting credit cards through your Apple device is simple and secure with the USAePay Point of Sale Credit Card Payment System. Whether you need to process a quick sale/refund or create a full order, this easy application can work for you.
Learn more about USAePay's iTunes updated iPhone App and download for free at http://bit.ly/V0lAFu.
About USAePay:
USAePay is a family-owned business based in Los Angeles, CA. For over 15 years, the company has been assisting merchants with payment solutions to fit their needs. USAePay's payment gateway supports most of the major platforms in the credit card industry and works with some of the leading check platforms. USAePay is pleased to work with most of the larger merchant service banks in the US and Canada. For more information, please visit http://www.usaepay.com or call 866-USA-EPAY (872-3729).