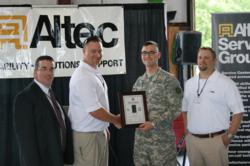 Birmingham, AL (PRWEB) May 24, 2013
East Missouri Service Center in Wentzville, MO was recently awarded the Show-Me Heroes Flag of Freedom Award. On Thursday, May 16, 2013 the award was presented during the Service Center's open house festivities. Eric Huff, Local Veterans Employment Representative, and Jon Barry, Director of Show-Me Heroes, presented the award in honor of Altec's participation in the Show-Me Heroes Program. Hamilton Pullen, the Service Center Manager, accepted the award.
The Show-Me Heroes program, established in 2010 by Missouri Governor Jay Nixon, is designed to help connect veterans returning home from service with job opportunities from local businesses. The Show-Me Heroes Program is administered by the Missouri Division of Workforce Development, a division of the Missouri Department of Economic Development.
Altec is a leading equipment and service provider for the electric utility, telecommunications, contractor, lights and signs, and tree care markets. The company provides products and services in more than 100 countries throughout the world.