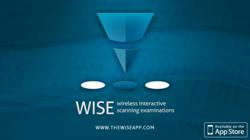 The WISE app is the first fully mobile phone application that can scan up to 100 question tests and never needs to be connected to a computer. Teachers can use the tests that they have to get the data they want. - Lee Wise, Co-Founder
Denver, CO (PRWEB) May 29, 2013
Creative Instructional Designs, LLC has announced the June 2013 release of their mobile application WISE (Wireless Interactive Scanning Examinations) for teachers and educational institutions. The app allows teachers to scan, grade, and organize multiple-choice tests all from their iPhones without the need of an analog-grading machine. In fact, no outside software is needed. A teacher can pair his or her existing tests seamlessly by printing free custom answer sheets that come with the WISE app. This feature enables educators to save on costly bubble sheets that are typically used with analog-grading machines.
The WISE app is the brainchild of two teachers in the Denver, Colorado area: Co-Founders Lee Wise and Dalton Ying. They realized that they needed a better solution for scanning, grading, and aggregating test data and decided to partner with Denver mobile application development firm Ideas By Nature to turn the idea into a reality.
"The WISE app is the first fully mobile phone application that can scan up to 100 question tests and never needs to be connected to a computer. Teachers can use the tests that they have to get the data they want." - Lee Wise, Co-Founder
The WISE team has been perfecting this product for the past year and a half and has created a powerful tool that can scan 30, 60, and 100 question tests with over 99.9% accuracy. The app can effectively differentiate between an answer that has been erased and the correct answer. In the past, this has been a notorious difficulty with analog grading machines. Once the data is scanned, the app allows teachers to organize all of their classes, students, and test grades directly onto their phones.
Most importantly, the app allows teachers to give students instant feedback by showing their scores immediately after they take their test. From there, teachers can use the app to print reports to view overall class data and can also produce assessment reports to give to individual students.
After extensive rounds of beta testing, the WISE app is set for its initial launch on the iTunes App Store in June 2013. The first launch will be aimed at individual teachers, but the company plans to sell the software as a licensed package to school districts, universities, and other institutions. Creative Instructional Designs,LLC will release updates for the app in upcoming months as the product evolves to continuously meet the needs of teachers.
Contact:
Lee Wise
thewiseapp(at)gmail(dot)com
1009 Grant St, LL50
Denver, CO 80203
Phone: 800-924-4917
Web: http://www.thewiseapp.com