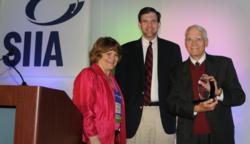 Hundreds of thousands of children are better off because of Dusty's work.
Salt Lake City, UT (PRWEB) May 28, 2013
The Education Division of the Software & Information Industry Association (SIIA) awarded Dr. Dustin (Dusty) Hull Heuston with the prestigious Education Lifetime Achievement Award at the Ed Tech Industry Summit on May 7th in San Francisco. Dr. Heuston, founder of the nonprofit Waterford Institute, was honored for his accomplishments and contributions to the education technology industry. The award was presented by his son, Dr. Benjamin Heuston, President of Waterford Institute. Joanne Weiss, Chief of Staff to Arne Duncan, the United States Secretary of Education, provided the introduction and overview of Dr. Heuston's distinguished career.
"Dr. Heuston is a fearless entrepreneur and a true visionary," she said. "And for the better part of 40 years he's been innovating and creating state-of-the-art learning experiences, evaluating them rigorously, then making them even more effective, engaging, and personalized. Hundreds of thousands of children are better off because of Dusty's work" said Weiss, who worked with Heuston for over ten years and counts him among her mentors.
Dr. Heuston received a master's degree from Stanford and a doctorate from New York University in American literature. He began his education career teaching at the college level and later became headmaster of a K-12 school in New York City. Inspired by a desire to help all children overcome academic challenges, Heuston developed his vision for excellence and equity in education. He founded the Waterford Institute, setting the goal to provide high-quality educational programs through the transformative power of technology. Waterford Institute quickly became known as a pioneer in new interactive training that harnessed the full power of the computer to enhance learning.
Heuston's early accomplishments include the development of the first educational videodisk for McGraw Hill, as well as the first educational videodisk for the National Science Foundation. He led the Waterford Institute to become the nation's leader in PreK-2 software for reading, math, and science programs. With his wife, Nancy, Heuston founded the Waterford School, which serves as a proving ground for Waterford's education products. The school boasts some of the highest test scores in the state of Utah.
"Dusty has influenced the education technology space with his innovative ideas and outstanding leadership for many years," said Karen Billings, vice president of SIIA's Education Division. "I first met Dusty when I was a teacher in New York City and was immediately impressed with his passion for ensuring that quality educational programs are available for all children. It was personally gratifying to learn from someone who was dedicated to providing interactive, engaging and individualized educational experiences for millions of students across the United States."
Today, the Waterford Institute develops research-based reading, math and science programs that are adaptive, engaging and offer individualized instruction – continuing Dr. Heuston's principles of education equity for all children. Waterford Institute's latest product, Classroom Advantage, an instructional tool for large or small group instruction using an interactive whiteboard, offers award-winning, research-based reading and language arts curriculum for PreK-2 students.
About Waterford
Waterford Research Institute (http://www.waterford.org) is a nonprofit research center dedicated to providing every child with the finest education through the development of high-quality educational models, programs, and software. Founded by Dr. Dustin Heuston in 1976, Waterford uses rigorous research to build award-winning, proven educational programs. Since creating the first educational videodisk, Waterford continues to be at the cutting edge of technology-delivered instruction. Today, Waterford Research Institute is an international leader in preschool through second grade software for reading, math, and science programs and has reached millions of children globally. For more information, visit http://www.waterford.org or contact 801.349.2200.