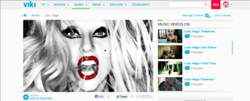 SINGAPORE (PRWEB) May 23, 2013
Viki, the global TV site powered by fans, today announced that it has signed a deal with Universal Music Group (UMG), the global music leader, to stream over 7,500 music videos on Viki.com. The music videos will be available throughout Asia at the end of May, opening up lyrics to its community of fans for translation, including the new language of "Karaoke," which Viki created just for music videos.
Artists featured range from global superstars to emerging talent, representing a wide range of genres and multiple languages. Music videos will be available in South Korea, Indonesia, Singapore, Malaysia, Laos, Cambodia, The Philippines, Thailand and Vietnam.
"We're looking forward to helping all of Universal Music's artists cross over into new regions and find fans wherever they are," said Razmig Hovaghimian, CEO and co-founder of Viki. "Once translated, videos cross language and cultural barriers to become universally loved."
The UMG announcement was made at Music Matters,the largest music industry event in Asia. Viki launched its music category at the event last year with Warner Music, LOEN Entertainment, SEED and DFSB Kollective.
"We see a lot of potential in Asia and Viki offers an interesting and innovative way for our artists to engage fans who don't speak their language," said Loo Yew Ming, Vice President, Digital & Business Development, SEA, Universal Music Group International. "At the same time, translations help fans discover new music from artists they've never connected with before."
ABOUT VIKI
Viki is a global TV site with TV shows, movies and other premium content, translated into more than 150 languages by a community of avid fans. With tens of millions viewers a month, 1.5 billion videos viewed and over 350 million words translated, Viki uniquely brings global prime-time entertainment to new audiences and unlocks new markets and revenue opportunities for content owners. Viki investors include Greylock Partners, Andreessen Horowitz, Charles River Ventures, Neoteny Labs, BBC Worldwide and SK Planet, a subsidiary of SK Telecom; among others. The company has offices in San Francisco, Singapore, Seoul and Tokyo.
ABOUT UNIVERSAL MUSIC GROUP
Universal Music Group is the global music leader, with wholly owned operations in 60 territories. Its businesses also include Universal Music Publishing Group, one of the industry's premier music publishing operations worldwide. Universal Music Group's record labels include A&M/Octone, Angel, Astralwerks, Blue Note, Capitol Records, Decca, Def Jam Recordings, Deutsche Grammophon, Disa, Emarcy, Fonovisa, Geffen Records, Interscope Records, I.R.S., Island Records, Lost Highway Records, Machete Music, Manhattan, MCA Nashville, Mercury Nashville, Mercury Records, Motown Records, Polydor Records, Republic Records, Universal Music Latino, Verve Music Group and Virgin Records, as well as a multitude of record labels owned or distributed by its record company subsidiaries around the world. The Universal Music Group owns the most extensive catalogue of music in the industry, which includes the last 100 years of the world's most popular artists and their recordings. UMG's catalogue is marketed through two distinct divisions, Universal Music Enterprises (in the U.S.) and Universal Strategic Marketing (outside the U.S.). Universal Music Group also includes Global Digital Business, its new media and technologies division and Bravado, its merchandising company.
Universal Music Group is a fully owned subsidiary of Vivendi.