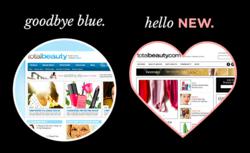 We're happy to have had such overwhelmingly positive feedback on the new design from our readers and clients.
Santa Monica, CA and New York, NY (PRWEB) May 24, 2013
Total Beauty Media Group announced today a new design for their flagship website, TotalBeauty.com. In an effort to present content, news, viral video, and other beauty and health information in a way that's both beautiful and comprehensive, the new site features a more organized layout that enhances user experience.
Just one day after the launch of this redesign and new content strategy rollout, traffic is up 20 percent and social media engagement is up more than 10x.
"This entire process has been nothing short of exciting," says Emrah Kovacoglu, Founder, President and CEO of Total Beauty Media Group. "We're happy to have had such overwhelmingly positive feedback on the new design from our readers and clients. It's a much better experience for our users, many of whom have been with us since day one."
In addition to the original reporting and visually-impactful galleries TotalBeauty.com is known for, the new content strategy includes rounding up the best beauty content from around the web -- with the ultimate goal of TotalBeauty.com being every woman's beauty homepage. This idea is part of the long-term plan to become women's daily stop for all beauty-related news.
"It's a way we intend to amplify those brands and websites we refer to on a daily basis," says Beth Mayall-Traglia, Executive Vice President/Editor-in-Chief. "Right after checking their emails and during their morning coffee, women can click to our site to get the latest updates on all beauty-related content, videos, and news."
The exciting new features on TotalBeauty.com include:
Newsfeed-style homepage: The new homepage features five top-level content channels in the form of Reviews, Beauty Advice, Diet + Health, Community, and Shops (an e-commerce extension to the website where the premium sampling program, Total Beauty Collection, is sold). Ten posts fit onto each page, with enhanced visuals and clickable links that direct to related content and articles.
Featured-story rotator: The featured-story rotator highlights up to eight of the newest stories published on the site and cover a variety of lifestyle categories.
Social media toolbox: All social media outlets are touted along the right side of the homepage. Unique photos from the brand's Instagram and Pinterest pages are streamed in real time, along with a link to the review page for the brand's well-known product database. Additionally, Facebook and Twitter tools enable content sharing as linked widgets within blogs and slideshow galleries.
User engagement capabilities: Facebook conversations are featured below content pages to facilitate user commenting within a transparent environment. Content managers are also able to facilitate conversation to boost community-wide discussions on specific topics.
For more, check out the new design on TotalBeauty.com, and follow the site on TotalBeauty.com/Facebook, Twitter (@TotalBeauty), and Instragram (@TotalBeautyEditors).
About Total Beauty Media Group
Total Beauty Media Group operates TotalBeauty.com, home of the largest database of independent, unbiased beauty product reviews for women. Founded in 2007, TotalBeauty.com features hundred of thousands of user-generated reviews, spanning more than 55,000 products, including well-known prestige, mass-market, salon and spa products. In addition, the site publishes daily editorial coverage of beauty news and trends.
Total Beauty Media Group's portfolio of digital beauty, health and lifestyle media properties includes: TotalBeauty.com, BeautyRiot.com, LimeLife.com and ModernMan.com. Total Beauty Media Group is backed by USVP and Wallington Investments and headquartered in Santa Monica, Calif., with offices in New York. For more information about the company, visit TotalBeautyMedia.com.
Press inquiries:
Tiffanie Petett, TPetett(at)TotalBeauty(dot)com