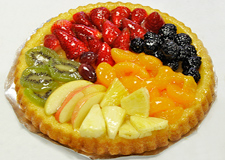 Vancouver, BC (PRWEB) May 25, 2013
The Glaze Sprayer for pastries, tarts and flans.
The Boyens/Unifiller Glaze Sprayer is a unique spraying system for accurate, fast and precise portioning of glaze onto pastries and other bakery products. Unlike the traditional method of glazing using a pastry brush, the Glaze Sprayer is an automated solution that prevents food contamination from bristles or manual handling. Glaze hundreds of pastries in minutes with minimal human effort.
Unlike other automated sprayers in the market, the Glaze Sprayer features an internalized continuous heating system which offers shorter heat times and temperature stability. The Glaze Sprayer requires minimal maintenance; there is no refilling of the water bath and no corrosion of internal working parts.
The Glaze Sprayer works in 3 easy steps:
1. Attach Jelly-in-a-Box to system.
2. Turn on to draw and heat glaze in system.
3. Spray warm glaze onto products in seconds.
Enjoy the many benefits including:

Quickly & easily enhance the look and taste of your products.
Extend shelf life so product stays fresher longer.
Protect operator against burns or injury.
Protect food from hand or brush contamination.
For a live Glaze Sprayer demo, make sure to drop by Booth 5011 at IDDBA, this June 2-4, in Orlando Florida or visit http://www.unifiller.com.