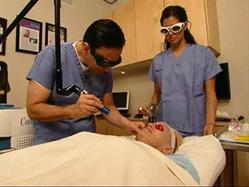 Los Angeles, California (PRWEB) May 27, 2013
Whether faced with scorching sunshine or dull dreary weather, putting on sunscreen before stepping out is now a regular part of every person's skin care regimen. According to a May 2013 W Magazine article, titled "Generation SPF," while SPF 30-50 is regularly used, many men and women have shifted to broad-spectrum sunscreens that will help them even in dull weather. Research has proven that UVA rays, which are harmful to the skin, will penetrate even the thickest of clouds on a dreary day (Go to goo.gl/bg2CV).
As reported in the W Magazine article, one is never too young to start a skin care regimen that includes a sunscreen and the right mix of cosmetics. Approximately 35 years ago, the US Food and Drug Administration introduced the SPF system to guide people in the use of sunscreen and how it is understood. Around 1985, the first SPF 15 creams were introduced and research began on the skin and its relationship with cancer, leading to the beginning of awareness on melanoma.
The article goes on to say that of those in their 30s who were introduced to sun block at a young age and have been regular users, many currently have skin like that of a 20-year old. Their skin does not have any freckles on common areas like the hands, neck and chest. In fact, for those who have been diligent in their use of sunscreen, the signs of photo-aging are often hardly there.
"Those that were not introduced to a good sunscreen at a young age and would like to work on reversing the effects of sun damage on the skin should consider going in for a fractional laser treatment," says Dr. Ourian. "This procedure restores the skin's glow and health, reduces fine lines and wrinkles, and enhances skin tone and texture."
Dr. Ourian has been a pioneer in laser technology and non-invasive aesthetic procedures including Restylane, Juvéderm, Radiesse and Sculptra. These treatments are used for the correction or reversal of a variety of conditions such as acne, acne scars, skin discoloration, wrinkles, stretch marks, varicose veins, cellulite, and others. More information about sun damage can be found on Epione's website.