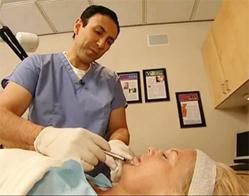 Los Angeles, CA (PRWEB) May 28, 2013
According to a May 19, 2013 ABC News article, titled "Botox Now Big with 20-Somethings," injecting Botox into the face to prevent formation of wrinkles has become very popular amongst men and women who are still in their twenties. (Go to goo.gl/Xc6iX).
"I absolutely see this trend reflected in my practice," says Dr. Simon Ourian, medical Director of Epione Beverly Hills. "We use Botox injections to proactively prevent wrinkles from occurring."
According to the article, physicians offering this cosmetic procedure are saying that patients who have not reached thirty are having Botox injected into their foreheads, around their eyes, and between the brows to look fresh and beautiful as long as possible. A significant factor contributing to this procedure's popularity is that it, unlike other options such as plastic surgery, involves little to no physical discomfort for the person undergoing the treatment.
A 29-year old woman interviewed for the article said that she felt a difference in the texture and condition of her skin as compared to when she was younger and that this motivated her to go in for Botox treatment. This treatment is also being used as a pre-emptive option to prevent the condition of the skin from growing worse.
A clinical psychologist quoted in the article warned of risks for those interested in anti-aging procedures at a relatively young age. She opined that such persons may become obsessed with how others perceive them and may find it difficult to avoid the compulsion of doing more and more to continue looking presentable.
"The effects of a Botox injection are not permanent," says Dr. Ourian. "Most of my patients get Botox 3-4 times per year."
Dr. Ourian has been a pioneer in laser technology and non-invasive aesthetic procedures including Restylane, Juvéderm, Radiesse and Sculptra. These treatments are used for the correction or reversal of a variety of conditions such as acne, acne scars, skin discoloration, wrinkles, stretch marks, varicose veins, cellulite, and others. More information about Botox's popularity can be found on Epione's website.