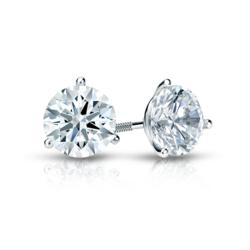 Los Angeles, California (PRWEB) May 24, 2013
A shining star among the elite of the California jewelry district, DiamondStuds.com now has a new online storefront designed to showcase the company's glittering assortment of diamond stud earrings. The new website features a user-friendly navigation menu enabling customers to create their perfect pair of diamond stud earrings in three simple steps by selecting shape, setting and diamond quality. The customers also have the option to select from a large collection of GIA and EGL USA certified diamonds. DiamondStuds.com is dedicated in providing a unique shopping experience for its customers through its prompt shipping and easy return policy.
As the Internet's greatest source of fully certified diamond stud earrings, DiamondStuds.com only operates online. This helps keep costs as low as possible for customers while allowing staff to focus on providing only the finest quality diamond stud earrings. Customers can choose from round, princess and fancy cut, combined with a large assortment of colored stones from deep, rich black diamonds to breathtaking pastels. In the interest of keeping consumers informed, the DiamondStuds.com website also provides a comprehensive education section with information about carat sizes, stone settings, cut and clarity.
At DiamondStuds.com, a team of trained and highly skilled jewelers are responsible for mounting each stud in the customer's choice of precious metal settings. All items come with a diamond report detailing each stone's features including its grade and overall condition.
About DiamondStuds.com:
Armed with a mission of lasting excellence and superior knowledge about diamonds, DiamondStuds.com focuses solely on diamond stud earrings. This attention to exacting details allows the company to offer its consumer base the largest selection of fine diamond earrings online. DiamondStuds.com also provides a huge array of customization options, enabling each individual to create an exquisite pair of studs, halo earrings, gemstone earrings or fashion earrings unique to his or her personal preferences. To learn more about DiamondStuds.com, please browse the new website at http://www.diamondstuds.com. Customers can call DiamondStuds.com at 213-955-9222 to speak live with a customer service specialist or send an email to info(at)diamondstuds(dot)com.