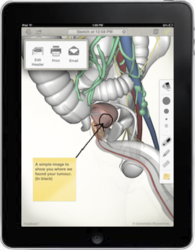 UroSketch 3D has the potential to transform the physician-patient interaction, helping physicians to explain conditions and helping patients to understand and retain the information
Vancouver, BC (PRWEB) May 29, 2013
Conquer Mobile, a fast growing developer of secure, custom mobile apps, announced that they have delivered an innovative mHealth app for GenomeDx Biosciences. The iPad app, UroSketch 3D, provides an interactive 3D model of the male pelvis and is now available for download on the Apple App Store for any iPad or iPad mini running iOS 6.
https://itunes.apple.com/ca/app/urosketch-3d/id638849204?mt=8
The app was developed for GenomeDx in collaboration with a panel of urologists, to help improve patient communications. The app enables physicians to rotate, zoom and explore anatomical features as a way of facilitating the explanation of a patient's condition, treatment options and prognosis. The application also offers images of different tumor stages and other features which currently focus on the prostate.
To personalize the app, there are draw and annotation features along with print and email functions so that urology practices can provide patients with an individualized report they can take home. Patients often experience information overload during consultations, so having a personalized copy to take home may relieve some of the anxiety around understanding their options and provides patients with meaningful information to reference at a later point.
The result is an iPad app that can be used across the continuum of urology patient care from early discussion of symptoms to diagnosis and treatment options through to post-treatment prognosis. To ensure patient privacy, individual consult sessions are listed on the home screen but erased at the end of each day. Physicians can create master sketches which are retained as templates for new patient sessions.
"Conquer Mobile has strong expertise in graphics and privacy, combined with great problem solving capabilities," commented Penelope Wood, Marketing Director at GenomeDx. "The team were very quick to translate ideas into features that added real value to our app."
"We are very excited about the launch of this pioneering patient consult app." said Angela Robert, CEO at Conquer Mobile. "It has the potential to transform the physician-patient interaction, helping physicians to explain conditions and helping patients to understand and retain the information. mHealth is a new strategic focus for Conquer Mobile," explained Angela Robert. "We are applying our expertise in graphics and privacy to mHealth apps that aid physicians and enhance the patient healthcare experience."
About Conquer Mobile
Founded in 2007, Conquer Mobile is a fast growing specialist developer of secure custom business apps. Conquer Mobile is known for deep expertise in mobile security, 3D visualization and SharePoint integration and has built a solid track record with blue-chip clients such as Ziplocal, Canpages and McDonald's Canada. Conquer Mobile is also a trusted long term development partner for several leading ISVs. For more information, please visit http://www.conquermobile.com
About GenomeDx Biosciences
GenomeDx Biosciences develops and commercializes genomic tests for prostate and other urologic cancers that have a real impact on treatment decision-making, improve patient outcomes and ultimately reduce healthcare costs. The company's first test, Decipher™, is a transformative prognostic test that provides a direct measure of the true biological risk of metastatic prostate cancer independent of PSA and other risk factors. GenomeDx is based in San Diego, California and Vancouver, British Columbia. More information is available at http://www.genomedx.com