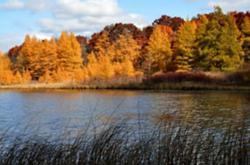 Wisconsin was also the boyhood home of John Muir and we enjoy a gentle morning hike through the glacial terrain that instilled him with a love of landscapes.
Milwaukee, WI (PRWEB) May 29, 2013
Naturalist Journeys, a top nature and birding tour company, is proud to announce their upcoming October 13 - 19, 2013, tour to Wisconsin and the sites that helped shape Leopold's conservation principles.
The eco-tour company's owner Peg Abbott says, "If you are interested in conservation, places wild, and wild things, there's a good chance you are familiar with Aldo Leopold's lyrical essays in A Sand County Almanac. Aldo Leopold was a conservationist, forester, philosopher, educator, writer, and outdoor enthusiast. Through the Aldo Leopold Foundation, his legacy lives on." Over 2 million copies of his book, written 65 years ago have been published, in nine languages. Leopold's thinking revealed in A Sand County Almanac is deeply profound and the book is lyrically written. David Shribman, executive editor of the Pittsburgh Post-Gazette called Aldo Leopold "the poet laureate of the environmental movement."
This tour, framed in Wisconsin's glorious fall colors and heralded by the call of Sandhill Cranes preparing to migrate, is a great opportunity to learn more about Aldo Leopold's life, work and philosophy. Tour participants will spend time at the Leopold farm and Shack, where the inspiration arose for many of his essays. There will be time to contemplate and discuss Leopold's conservation ideas and to visit the new Leopold Legacy Center, where the inspiring work of advocating a land ethic continues. In addition to generous time at the Shack and with the Aldo Leopold Foundation staff, participants will explore Wisconsin places where Leopold, his family and students worked, learned and planted the seeds of a land ethic that continues to grow and endure.
The guide for this tour is Ed Pembleton, who says, "If you are a birder and have seen even one crane you know Leopold was correct when he wrote 'Our ability to perceive quality in nature begins, as in art, with the pretty. It expands through successive stages of the beautiful to values as yet uncaptured by language. The quality of cranes lies, I think, in this higher gamut, as yet beyond the reach of words.' Leopold was specifically writing about Sandhill cranes, which have now returned to Wisconsin in growing numbers and we will have an opportunity to see them come to roost in the Wisconsin River, just upstream from the Leopold Shack. We will also have the opportunity to see all the World's 15 species of cranes during our visit to the International Crane Foundation."
Find full details of Naturalist Journeys' Aldo Leopold's Wisconsin Nature and Hiking Tour at http://www.naturalistjourneys.com/jcalendar/jc_WI13.htm.
More about Aldo Leopold:
Leopold, deservedly known as the "Father of Wildlife Management," wrote the first text and taught the first course at the University of Wisconsin. A superb teacher and researcher with a great ability to connect with landowners, he and his students were involved early on with farmers on the prairie near Lake Mills in a cooperative research and wildlife management project.
Given to new ways of thinking, Leopold saw opportunities to try and restore health to land "worn out" by bad management. He and his colleagues at the University tested those ideas with the first ever prairie restoration at the University of Wisconsin Arboretum—the second stop on the tour.
More about the October 13 - 19 Aldo Leopold's Wisconsin Nature Tour:
This seven-day hiking and nature tour begins and ends at in Milwaukee, Wisconsin. This tour is limited to 12 participants.
More about Naturalist Journeys:
Naturalist Journeys LLC, a top birding and nature tour company, offers specialty small group travel worldwide, from the western U.S. to Alaska, Hawaii and Florida, Costa Rica, Panama, safaris in Africa and more. Naturalist Journey's guided nature and birding tours feature expert guides with decades of experience in bird-watching, travel photography and other forms of eco-tourism. Naturalist Journeys also offers hiking and adventure travel tours in many national parks and wildlife reserves, including the Galapagos, Antarctica and the Amazon.