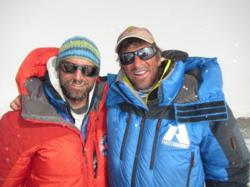 Mt. Everest, Nepal (PRWEB) May 24, 2013
The Everest climbing season is ending with notable ascents by several RMI Expeditions Guides. On May 21st RMI Guide Melissa Arnot reached the summit of Mt. Everest, marking her fifth summit and the most of any female climber in history. Two days later, RMI Guides Dave Hahn and Seth Waterfall also reached the summit of the world's highest mountain. Hahn claimed his fifteenth summit of the mountain, establishing a new record for the number of summits of Mt. Everest by any non-Sherpa climber.
"Can an Everest mountain guide take standing on top of the world for granted (third for Seth, fifth for Melissa and fifteenth for Dave)?  I don't think so.  There are too many variables on this two-month trip: jet stream winds, icefalls, avalanches, challenging route conditions, and personal health to name just a few. This is an incredible accomplishment," said Peter Whittaker, RMI Expeditions owner and veteran of multiple Everest expeditions. "Congratulations on a job well done this year!" 
Hahn and Waterfall were leading the Everest climb for RMI Expeditions, an international mountain guiding service based in Washington State specializing in mountaineering and trekking expeditions. Hahn, often called a master in patience, chose to wait for a summit day with few other climbers. They left Camp 2 early in the morning on May 22nd, passing through Camp 3 and ascending directly to Camp 4 on Everest's South Col. After a few hours of rest, they departed on their summit attempt around midnight on the 23rd, reporting calm winds and clear skies. They climbed throughout the night, reaching the summit of Mt. Everest at 7:30 a.m. local time, shortly after sunrise. "Conditions weren't all that bad," reported Hahn via satellite phone from Camp 2 after their successful summit, "[we] ended up with pretty good weather [on] summit day, but a little cold." Hahn and Waterfall are descending from Camp 2 to Base Camp today and will begin the trek back through the Khumbu Valley to Kathmandu in the coming days.
To read the team's daily reports and audio updates from the expedition please visit: http://www.rmiguides.com/blog.

RMI Expeditions (Rainier Mountaineering, Inc) is one of America's most reputable and long-standing guide services with over 44 years of mountain guiding experience. An American Mountain Guides Association (AMGA) accredited guide service specializing in mountaineering expeditions, alpine climbing, trekking and ski touring programs, RMI is committed to leading exceptional mountain adventures.