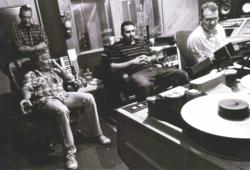 Los Angeles (PRWEB) May 28, 2013
From April 2011 to February 2013, music legend Rod Stewart recorded his latest project "Time" at Los Angeles' recording studio, Studio City Sound (SCS).
The session started April 25th, 2011, in Studio A, when the three-time Grammy award winner and two-time Rock and Roll Hall of Famer began tracking live with his band for the song "Corina, Corina". Stewart's band consists of Guitarists Don Kirkpatrick and Paul Warren, Bassist Conrad Kirsch, Keyboardist and co-producer Chuck Kentis, and Drummer David Palmer. Grammy Award winning engineer Tom Weir and assistant engineers Andrew Schwartz, Daniel Dempsey, and Anthony Kronfle tracked the initial sessions on two inch 24 track analog tape, utilizing world class blend of vintage and state of the art mic pre's (Neve, API, UA, Ampex, Altec, Amek) and outboard (UA, DBX, ADR, Empirical labs, ADL, and Chandler).
After completion of the initial tracking session in Studio A, the songs were transferred from 24 track analog to ProTools HD (Avid I/O's) and Stewart requested that the remaining lead vocals be recorded in Studio C. Weir's vocal recording chain consisted of a Nuemann U47 microphone with a Neve 31102 mic pre and ADL 1000 compressor.
The pace increased when the recording of background vocals and numerous overdubs required the simultaneous utilization of Studios A, B, and C. In Studio B engineer Steve Valenzuela worked with lead vocal producer Paul Warren on edits and comping vocals. According to co-producer Check Kentis, "The place [SCS] had a really great working environment, and the sound that he got, Tom will always give you 110 percent." Studio City Sound was involved in the recording of sixteen out of eighteen tracks listed on the iTunes Deluxe and only at Target CD version. On February 15th, 2013 Stewart completed his two and half years in the studio with the song "Pure Love". Produced by Stewart with co-producer Kevin Savigar and Chuck Kentis. "Time" is his first album of original music in twenty years and was released on May 7th, 2013. The album debuted at # 7 on the U.S. Billboard chart and reached #1 on the UK Billboard chart.
As well as recording with Rod Stewart, Studio City Sound has recently hosted sessions with other multi-platinum artists. Kelly Clarkson recorded vocals with engineer Steve Valenzuela on her latest single "Catch My Breath." Andrew Schwartz also recorded vocals for Natasha Bedingfield with writer/producers Wayne Wilkins and Danielle Brisebois, T.I, and legendary composer Burt Bacharach was interviewed in Studio A for CBS TV's OMG Insider. Producer Fraser T Smith worked in Studio A with Danish dance duo Quadron recording their latest single "Hey Love". Mixer Tom Weir recorded and mixed performance segments for the CBS show "Vegas" with music supervisor John Houlihan and producer John Niss. As well as recording unreleased material with Chuck Negron, formally of the band Three Dog Night.
Studio City Sound's recent services include an in-studio and mobile multi-camera HD Video Production and live streaming. Performances have been recorded at various locations including a concert with Craig Taubman at the John Anson Ford Theater, Layla Lane at The Joint, Keyrei at The 3 Clubs Cocktail Lounge, The Scarlet Roads at Malibu Inn, and Lesley Wolman at the American Jewish University.
For more information please visit the Studio City Sound website at http://www.studiocitysound.com.