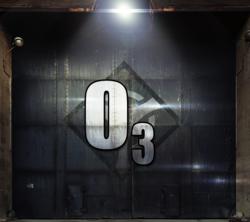 We wanted to tell a powerful story that used the Big Island in some ways it hadn't been used before
Kailua-Kona, Hawaii (PRWEB) May 24, 2013
"A century after the earth was poisoned, a small group of human survivors emerge from cryogenic sleep.They weren't supposed to. Most of them die. Three remain, and their oxygen masks only last six hours. If they don't find more soon, they, too, will die."
So goes the plot of "03", a post-apocalyptic sci-fi short film launched Thursday by a team of Big Island filmmaker.
"We are launching this film to compete in the '168 hour film festival', an international film competition that could potentially win our team a $1 Million film contract," said producer Robert A. Dobbins. "If that's the case, we would love to make another film on the Big Island if possible. This island has amazing locations." Dobbins grew up on Kauai, and got his start in the film industry as a temp Production Assistant on Ben Stiller-directed comedy, "Tropic Thunder." He moved to the Big Island in 2009 and began working with several indie film communities associated with University of the Nations in Kona. "We have pulled together an incredibly talented team, lt's an honor to be working with such talented people."
"O3" is an ambitious post-apocalyptic short film that uses Big Island locations in unique ways. "We wanted to tell a powerful story that used the Big Island in some ways it hadn't been used before" said Director Dan Nietz. "Some of the barren landscapes around here are amazing for a post-apocalyptic look." Nietz has directed several other projects on the Big Island, including BIFF screened "La Isla Edina", which gained distribution through short-film network Shorts International. "We think the Big Island is an amazing place to film, we would love to see the film economy grow here."
The 168 Hour Film Festival, an international film competition based out of Southern California, gives each competing team only 7 days to shoot and edit their film, and offers the winning team a film contract worth up to $1 million.
The filmmakers began writing on May 13th, and began filming with a crew of nearly 50 on May 23rd, coinciding with the Big Island Film Festival opening day.
The filmmakers also launched an Indiegogo campaign to pull in the last resources they needed to complete the film. "We already had a ton of resources pulled together in donated time and other gifts in kind. We found that we only needed about $20,000 to complete the short, which is incredible considering the amount of work going into this project," said Robert A. Dobbins. "We are now down to our last 72 hours and we have a considerable amount more to raise, but we are optimistic."