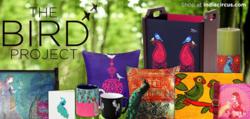 "IndiaCircus draws inspiration from ethnic and cultural elements of India, the abundance of which is seen in the country's rich heritage. The Bird Project explores and bring to you the faces and facets of a whole lot of this." Krsna Mehta
(PRWEB) May 24, 2013
India Circus, the elite, contemporary-chic home décor, lifestyle, personal accessories, and fashion brand, by Krsna Mehta, the renowned designer, has rolled out their stunning new collection "The Bird Project". This new collection of products showcase designs inspired from the beautiful world of birds and nature. The Bird Project Collection promises to leave the brand's customers spellbound with the amazing and unbelievable magic that the prints and designs of birds can create.
The prints and designs of birds can be found on a number of India Circus home décor products, such as wall art, posters, scented candles and candle holders, cushion covers, wall clocks, doormats, tissue box holders, magazine racks, multi-utility storages and photo frames. Customers can also make a rather big 'bird' statement in their homes by using the brand's elegant bird-inspired upholstery fabrics, and the stunning round and heart-shaped side tables. There's a lot for the dining area, too, such as trays, coasters and coffee mugs, with pretty birds on them.
India Circus also captures the elegance of birds in various personal accessories, such as wrist watches, sippers, key chains, notebooks, mouse pads, handbags, laptop bags and cool iphone covers as well. And, of course, Bohemyan Blue, India Circus' exquisite apparel collection, also has a number of tunics, kurtis and pyjamas, with delicate designs of birds on them. A variety of stoles also carry bird-inspired prints.
Mr. Krsna Mehta, Design Director, India Circus, says, "India Circus' products draw inspiration from the various ethnic and cultural elements of India, and the abundance of flora and fauna plays a key role in the country's rich cultural heritage. From the historical times, which saw graceful dances by the peacock, to the pretty, scenic chirping of love birds in any and every era, the variety of products in The Bird Project explores the various faces and facets of a whole lot of beautiful birds."
Along with the designs and prints, the vibrant hues of all the products in The Bird Project collection perfectly complement the mood, and bring alive the magic of birds.