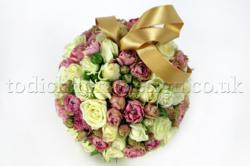 'We love the variety that comes with each wedding' says wedding consultant Laura Fisher 'Our team enjoy working with the brides in creating flower designs that are personal to them, The vintage theme has created a huge impact within the wedding industry'
(PRWEB UK) 26 May 2013
Todich Floral Design has recently had a flurry of brides requesting for them to provide the wedding flowers for the bride and groom's wedding day. The expert florist in London has a wealth of experience in providing bespoke wedding flowers at an affordable price.
The team at Todich Floral Design often receive requests for antiquated flowers arrangements which have made their way back into fashion. In particular, the florists have noticed a higher demand for pomander wedding flower bouquets (Kissing Ball Bouquet). The pomander has made a comeback into today's current trends and has been tweaked with a modern twist. The wedding flowers are arranged into a ball shape design and are individually placed into a foam oasis; the bride can either hold the pomander with the looped ribbon or alternatively rest it on her arm. Traditionally, pomanders were made with flowers such as carnations and chrysanthemums, and were usually only one colour and one flower type. Nowadays, the trend is that pomanders are designed with small delicate flowers such as spray roses, freesias, Vanda orchids and ivy berries; the colour palette is usually filled with a variety of pastel and vintage colour schemes.
The company have also noted that brides wish to customise their own bridal bouquets with personal memorabilia, Today, Pomander bouquets tend to be decorated with the bride's jewellery such as pearl earrings, necklaces, brooches as well as buttons, bows and fabric swatches. The brides aim to coordinate their flowers with the overall wedding theme.
In 2013, the fashion for pomanders has spread to all areas of the wedding. Traditionally it was just for the bride as a bridal bouquet, but now the pomander is seen in other designs. For example, small pomanders are very popular for flower girls to hold and it even works brilliantly as a table centre. For church weddings, pomanders are used as a type of pew end designs and at the reception they can be hung on the backs of chairs.
The scented floral design is proving to be a huge success and will be in fashion for the foreseeable future.
Todich Floral Design is a wedding and events florist based in the heart of London: established for over 15 years, the company has a beautiful online portfolio of photographs of all the successful weddings from the last couple of years. The team at Todich Floral Design follow floral fashions heavily so to be in line with current trends. The designers offer a free consultation and a professional design service like no other. The florist is able to provide a flower delivery in service for weddings based in Greater London and the surrounding areas.