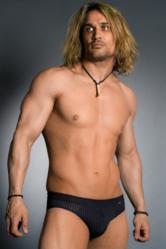 Men who buy their own underwear are already a step ahead in the fashion stakes because they take control of their choices
(PRWEB UK) 24 May 2013
Men are increasingly body conscious and as a result fashion conscious, right down to their underpants, says DGU partner Jane Garner.
The UK retailer Jacamo has revealed the seven main body shapes, and their research shows many males are unhappy with their bodies. The shapes they have lined up are: pear (large middle), cucumber (slim and straight), tomato (round all over), brick (broad everywhere), nacho (classic broad shoulders and slim waist), string bean (lean and skinny) and snowman (snowman shaped!).
Deadgoodundies.com stocks fashion brands from all over the world, so the website can cater for many shapes and sizes. Customers' tastes are diverse and demanding, says Jane.
"A huge percentage of our buyers are men, though we do have women purchasing for their husbands, partners, sons, friends, fathers, even grandfathers…" she explains. "Men who buy their own underwear are already a step ahead in the fashion stakes because they take control of their choices. Buying online from a site like ours gives them a vast and constantly updated selection, plus the privacy of buying from home, at whatever time is convenient. Deadgoodundies underwear encompasses strings and thongs, mini, midi and maxi briefs, low cut hipsters, boxers, shorts and all-in-one underwear as well as jock straps and long johns. All with matching tops, plus swimwear, socks, nightwear and loungewear from best selling collections.
Owners of some of the body shapes named this week will be pleased to hear certain men's underwear brands are particularly suited to them. South American designed briefs and boxers from Mundo Unico, Clever and Joe Snyder are good for slim hipped string beans and cucumbers. Tomatoes and bricks could focus on collections with a slightly more relaxed fit, such as Jockey, Skiny or Sloggi. But as Jane adds: "Most fashion ranges go up to 38-40 inch waists on Deadgoodundies and if any customer needs advice on what size would best suit them, we have clear size guides online for each collection, or they can contact one of our experts to check."
Company Information
Deadgoodundies is an online only retailer stocking the best in designer men's underwear and swimwear from all over the world including: (in alphabetical order) Big Boys, Body Art, Bruno Banani, Bum-Chums, Clever Moda, Doreanse, Ergowear, Gigo, Gregg Homme, HOM, James Tudor, Jockey, Joe Snyder, MaleBasics, MANstore, Mey Bodywear, Mundo Unico, Nils Bohner, Obviously For Men, Olaf Benz, Pikante, PUMA, Skiny, Sloggi, Solar TanThru and Zoggs. DGU stocks everything from thongs and strings to briefs, hipsters and shorts as well as selected loungewear, socks, T-shirts and more from their best selling brands.
DGU are incredibly media friendly and always have high res images on hand for fashion pages and samples for photo shoots as well as expert comment and market insight from partners Adam and Jane.
For more information contact DGU PR Jane on 01743 271615 (international +44 1743 271615) or email pr(at)deadgoodundies(dot)com