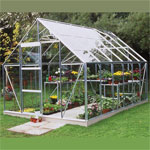 It's definitely important to get children involved in gardening at a young age.
Sheffield, Yorkshire (PRWEB UK) 29 May 2013
The Chelsea Flower show is well underway in London this week, and despite the poor weather the turnout is impressive and the displays are as stunning as ever. Needless to say, the show is sparking horticultural interest in all who visit, the only problem being that the main demographic is reaching retirement age, if they aren't there already. The average visitor is said to be between 55 and 65 years old, raising the question of how to get the younger generation back into gardening.
The Royal Horticultural Society - who organise the event - have been working alongside schools in an attempt to reintroduce gardening into youth culture, but this is proving difficult as many inner-city school children don't have access to a playing field, let alone a greenhouse. It has also been reported that fewer young people are interested in gardening as a career. Despite youth unemployment rates the majority of horticultural businesses find it extremely difficult, if not impossible, to fill vacancies.
A spokesperson from Two Wests & Elliot, a leading garden supply company specialising in discount gardening supplies, had this to say: 'Young people these days think gardening is out of their reach, as many don't have gardens or outdoor spaces to play in.' When asked about the RHS plans to encourage gardening in schools, our spokesperson told us: 'It's definitely important to get children involved in gardening at a young age. It's a very therapeutic hobby as well as being highly useful. Involvement at a young age would definitely encourage more young people to pursue a career in gardening.' With the recent emphasis on cooking in schools many parents and teachers feel that gardening should get equal attention, and perhaps even a space on the curriculum.
Based in Derbyshire, Two Wests & Elliott was founded over 30 years ago and continues to provide the highest quality small and large greenhouses and gardening supplies.
To find out more about Two Wests & Elliot's extensive range of garden supplies visit http://www.twowests.co.uk or call 01246 451077. Alternatively keep up to date with Two West & Elliot on Facebook or Google+.