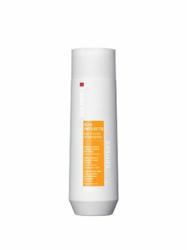 (PRWEB UK) 27 May 2013
Hairtrade, the UK's leading retailer of hair extensions, clip in hair extensions, hair care and beauty products, has introduced a new Goldwell range ideal for the Summer weather.
Established in 1948, professionally exclusive Goldwell is one of the hair industry's top brands, specialising in colour care to give a salon finish at home.
The Goldwell range consists of shampoos and conditioners specific to hair colour shades, as well as treatments and styling products.
The new Goldwell Dualsenses Sun range has four key products to keep hair healthy in the sun – an after-sun hair and body shampoo, an after-Sun 60sec treatment, a leave-in protect shimmer gel and lastly, a leave-in protect spray.
The After-sun shampoo offers protection and regeneration for sun-stressed hair. It has a specially developed Sun System with passion fruit oil and UV filter delivers shimmery shine. It cleanses and cares for the hair and skin after the effects of sun, pool and sea water.
Meanwhile the leave-in protect spray consists of a 2-phase milky care and protection in one while detangling the hair and providing instant moisture.
For extra care, the Goldwell Dualsenses Sun Reflects After-Sun 60sec Treatment intensively regenerates the hair from the effects of the sun, pool and sea water in only 60 seconds, providing an instant moisture boost for hair.
And finally, the Sun Reflects Leave-in Protect Shimmer Gel tames the hair and gives shimmery shine while providing control, protection and moisture.
Keven Kou, Managing Director at Hairtrade commented, "We have been looking to extend our hair care range since sales increased last year. We found that customers are looking for specialised products, and in particularly those for the summer months when hair needs extra care, especially in the sun on holiday."
The Goldwell Dualsenses Sun range is available from Hairtrade now.
About Hairtrade:
Established in 2005, Hairtrade (owned by I&K International Limited) is now one of the leading distributors of online hair care and beauty products across the UK and Europe. Hairtrade provides a wide range of hair extensions, hair care products and hair electrical brands.
Hairtrade provide a wide range of 100% human hair extensions mainly, human hair weaves, I&K clip in Hair Extensions and pre-bonded hair and European hair extensions. Among its top brands are I&K 100% Human Hair and Remy Hair, Top Model and Jessica Simpson hair. In addition to its 100% human hair extensions the company also provides synthetic hair extensions, wigs, hairpieces, hair extensions accessories and tools, as well as an extensive range of hair care products from brands such as Tigi, Loreal, Schwarzkopf, Goldwell, Matrix, Fudge, Keune, Sexy Hair and many more.