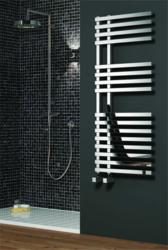 Customers can choose from radiators that are designed to add to the visual element as opposed to radiators that may be distracting and out-dated
Grimsby, North East Lincolnshire (PRWEB UK) 26 May 2013
Along with their full range of first class bathroom products, Asturias Bathrooms has now added a new addition to their top tier product line. Asturias Bathrooms is proud to announce that they now offer a diversified line of designer radiators. The radiators that are offered incorporate a variety of different finishes, styles and supply an ample amount of versatility to meet the requirements of your bathroom or living space.
In keeping with their streamlined minimalist approach to design, the radiators offered from Asturias Bathrooms are ideal for maintaining continuity and visual fluidity throughout your decor. With this new product line, Asturias Bathrooms now offer an extensive range of upscale products that make designing your dream bathroom an ever increasingly available prospect.
With the new radiator product line consumers can address the fundamental necessity of the addition of a heating element while making choices on other central bathroom features such as basins, toilets and showers. The strict adherence to luxury that Asturias Bathrooms ethos embodies is mirrored in their decision to unveil the new radiator product line.
Jon Lee for Asturias Bathrooms added the following: 'Customers can choose from radiators that are designed to add to the visual element as opposed to radiators that may be distracting and out-dated'. Radiators that are offered by Asturias Bathrooms allow the consumer the option of specifying what sort of fuel type will be used in accordance with the radiator of choice. This added diversity illustrates the sense of customer satisfaction that the range of products offered by Asturias Bathrooms provides.
The radiator line is also right in path with all of the products offered by Asturias Bathrooms in terms of offering competitive pricing to accommodate the needs of anybody that is looking for a way to bring in a touch of class of with a truly high-grade, top-tier product that is going to elevate the personal atmosphere. Listings of pricing along with current special offers where applicable can be determined by viewing the company's official website.
About Asturias Bathrooms
Asturias Bathrooms has 31 years business experience providing an outstanding and reliable service whilst offering an extensive and popular product line. The latest unveiling of the designer radiator line shows an expansion of their product range to accommodate more consumer needs. The company has established themselves as a popular brand who offers a great range of designs, styles and installation methods regarding bathroom fixtures. Asturias Bathrooms are known for their functional and quality product collection which they are proud to showcase.