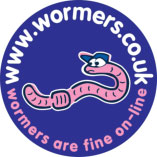 Many horse owners are aware of the way in which a horse can develop a resistance to wormers
Beeston, Cheshire (PRWEB UK) 26 May 2013
Wormers.co.uk is launching their very own Worm Count Kits so that consumers can easily monitor the presence and possible resistance to worms that horses have developed. The kit will allow consumers to more closely monitor the worming programme that horses should be on in order to optimise the reduction of the presence of worms.
Debbie Martin for Wormers added 'Many horse owners are aware of the way in which a horse can develop a resistance to wormers. By implementing a rotating worming programme horse owners are able to ensure they are providing the best healthcare possible for their horses'. Worming medications can easily become expensive, especially when you are giving the medication to a horse that may not need it. The old method of routinely providing medication whether the horse needs it or not has proven that it is not only an expensive method, but that it can also contribute to the development of medication resistance.
The worm count kit that Wormers.co.uk is launching will allow horse owners to adequately gauge whether or not their horse is in need of medication. More importantly this worm kit will also give consumers the insight to critically examine which worms the horse has come into contact with. This allows for a much more targeted worming programme. By maximising the scrutiny of worm infestations, consumers are able to decrease unnecessary spending on medications that are not tailored for the specific infestation.
The worm kit will also allow consumers to identify which horse out of a herd that is actually infested with worms. By targeting the problem, horse owners are also able to greatly reduce the spread of infestation to other horses that are living in nearby quarters. The best way to provide adequate care is with regular and routine testing. With the added insight provided from the worm kit horse owners are now able to take the guess work out of whether or not to worm. The results provide critical information that allows horse owners to shave off excess costs dedicated to medication that may not actually be needed.
About Wormers.co.uk
Wormers.co.uk is a company that has been around for over a decade. They were one of the very first companies that offered a website solely dedicated to livestock wormers and other health products primarily focusing on equines. Wormers.co.uk continually examines new information and reports so that they may provide the most adequate, updated and relevant information to their customers. To ensure their high-quality standards are continually being met their staff is AMTRA trained.