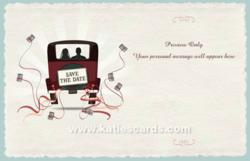 We are dedicated to providing an eco-friendly service for weddings. By building links with similar companies, we can build on our reputation as an environmentally friendly wedding supplier and can help other small businesses gain valuable exposure.
(PRWEB) May 28, 2013
Katie's Cards has recently announced that it will be collaborating with Shropshire Petals, an eco-friendly flower company which produces 100% biodegradable petal confetti. Following on from the success of the company's joint promotion with Dotty Vintage Weddings earlier in the year, the Katie's Cards marketing team has been keen to reach out to more companies who share their eco-friendly ethos and their dedication to providing a personalized and professional service to customers. Shropshire Petals does just that and the companies have agreed to include each other in future blog posts, their June newsletters and to promote each other via their social media networks.
There are multiple benefits to such collaborations, not only for the businesses themselves but also for each company's customers. Customers of both companies are likely to be looking for similar qualities in their suppliers and, in this case, to share the desire of making their wedding day as eco-friendly as possible.
One of the main reasons that Katie's Cards has chosen to collaborate with Shropshire Petals is that the online card company is hoping to expand the service that it offers for weddings. For brides and grooms-to-be, Katie's Cards offers a selection of vintage-inspired 'save the date' wedding ecards. The low cost of a Katie's Cards membership means that sending electronic 'save the date' cards is extremely cost-effective, particularly for those who are inviting a large number of guests. Furthermore, people are increasingly managing their social diaries via their mobile phones, tablets and computers. Therefore, receiving their 'save the date' card online allows people to instantly add the date to their calendar and also prevents wedding invitations getting lost in the post or mislaid.
Katie's Cards' recent focus on expanding the service it offers for weddings is indicative of the growing eco-friendly wedding trend.
As Katie's Cards CEO, Katie Davies, explains:
"The wedding industry is seeing a growth in the number of people who are planning their wedding with an ethical conscience. Due to our eco-friendly ethos here at Katie's Cards, we want to provide an effective service for those brides and grooms who share our concern for the environment. By building connections with similar companies, we can not only increase our reputation as an eco-friendly supplier but can also help other small businesses gain valuable exposure for their websites."
It is not only eco-friendly wedding suppliers that the company hopes to build links with, it also hopes to make connections with companies that provide an environmentally friendly service for parties and other events. Additionally, these joint collaborations are a smart way of connecting digitally with other companies and the links that are created play a key role in search engine optimization. Linking with similar businesses also helps to create a coherent brand image and it's important, therefore, for small business such as Katie's Cards to be selective when choosing which companies they link to.
This dedication to providing an eco-friendly service for weddings is part of Katie's Cards' wider 'green scheme'. All the ecards available on the company's website are environmentally-friendly: they do not have to travel by land, air or sea to be delivered and no resources are used to make the cards. Interestingly, the eco-friendly nature of the service offered by Katie's Cards has meant that many businesses have shown an interest in using the company's ecards as part of their online marketing strategy. Katie's Cards' CEO is confident, therefore, that the green nature of their ecards will continue to increase their desirability both within the wedding industry and beyond.